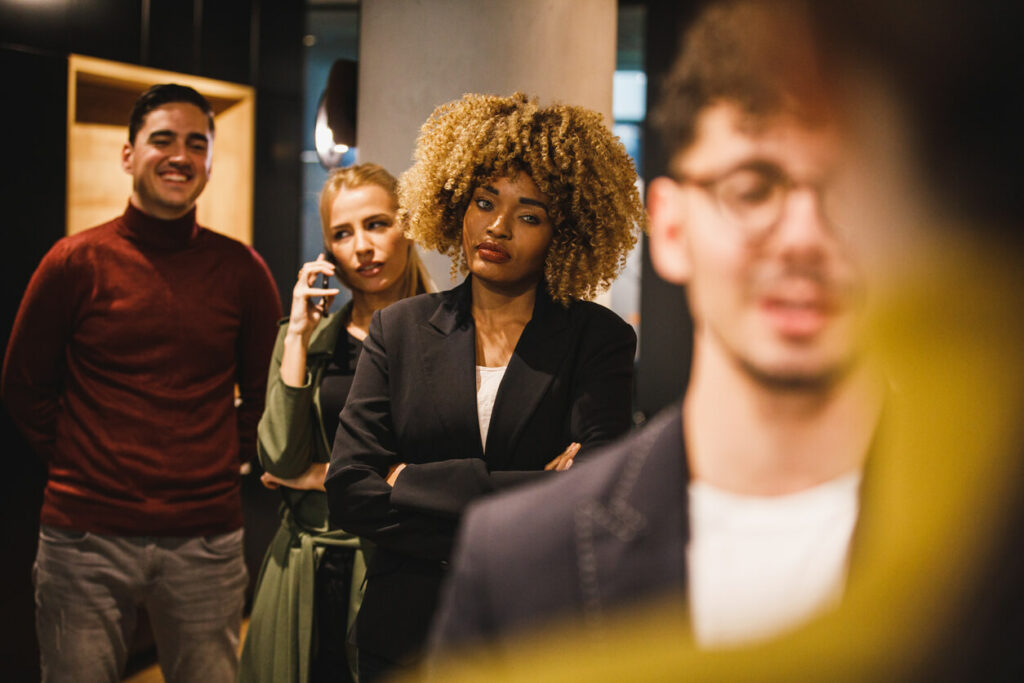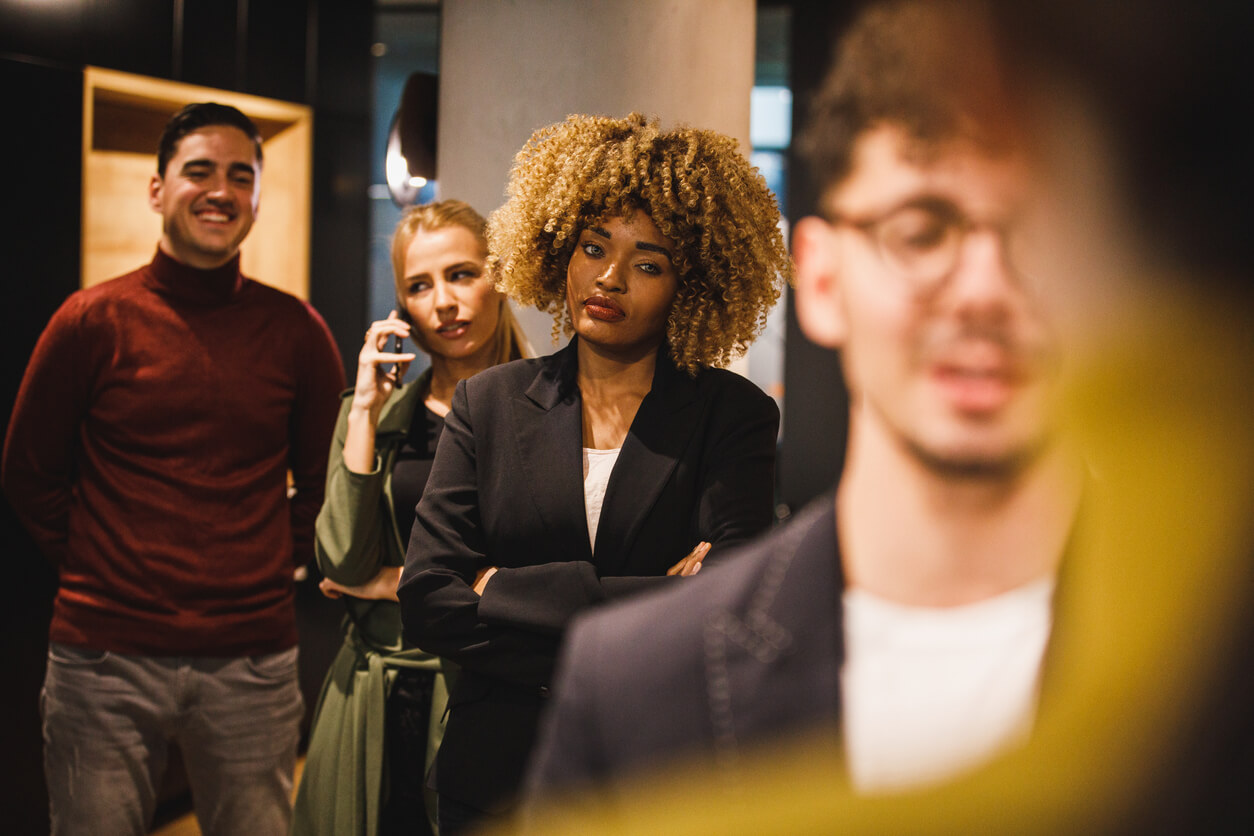 If you're not providing guests with an excellent experience, they're going to become one-off customers and never visit you again.
This post covers:
9 tips for improving guest experience that you can use right now
Why emailing your guests makes for a better stay
And how a sleek front-of-house experience can enhance guest experience
After reading this article, you'll be a guest experience expert, ready to turn those 1-star reviews into 5-stars, improve your brand's reputation, and drive-up profits across the board.
Let's start with the elephant in the room — what's so important about guest experience, anyway?
Why You Should Make Improving Guest Experience Your Top Priority
Guest experience is the main indicator of quality service. It's all about providing excellent hospitality – get this wrong and you'll quickly notice it in your online reviews or rising number of complaints. In short, it's one of your most important metrics as a hotelier.
The guest experience can be broadly divided into 3 sections.
Pre-stay. This includes everything from booking your hotel on OTA or your own website, to pre-stay emails.
During the stay. The check-in process, problem resolution, amenities, personalization, etc.
Post-stay. Checking out, capturing guest emails for marketing, and reviews.
We recommend reviewing and overhauling your guest experience frequently. When done right it can lead to major wins. Guests who had a pleasant experience are more likely to:
Spend more on upsells and concierge services
Become repeat customers
Leave positive reviews on OTAs
Spread positive word-of-mouth to their friends and families
Join your loyalty program
When guests have a poor experience they're likely to leave negative reviews online that can damage your brand's reputation. If that's something you've struggled with don't worry.
Next up: we share our top tips for enhancing guest experience.
9 Tips For Better Guest Experiences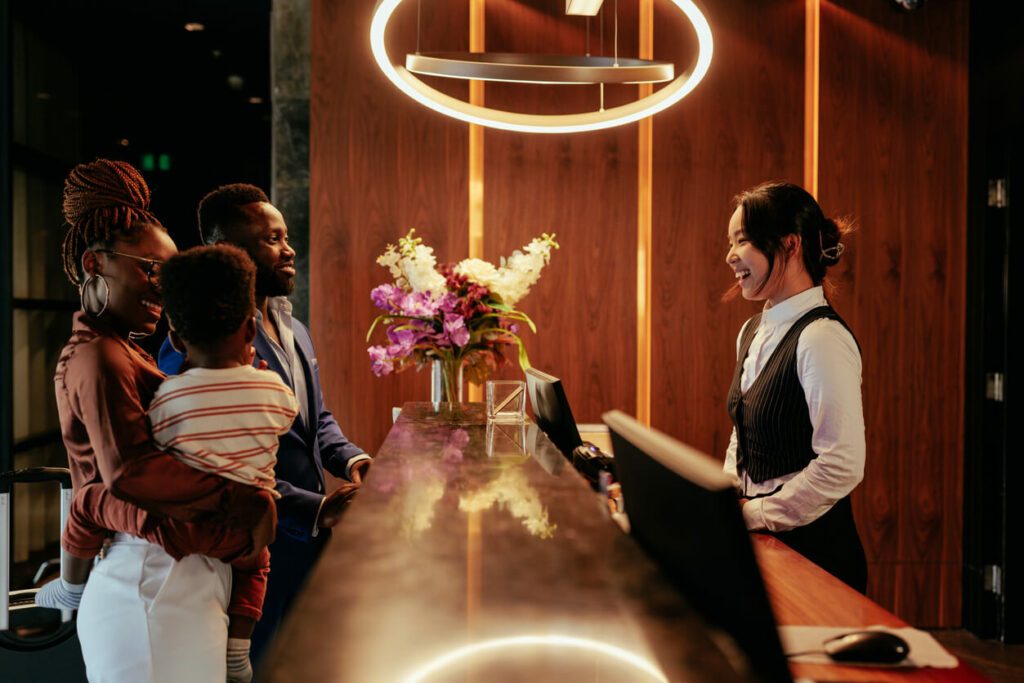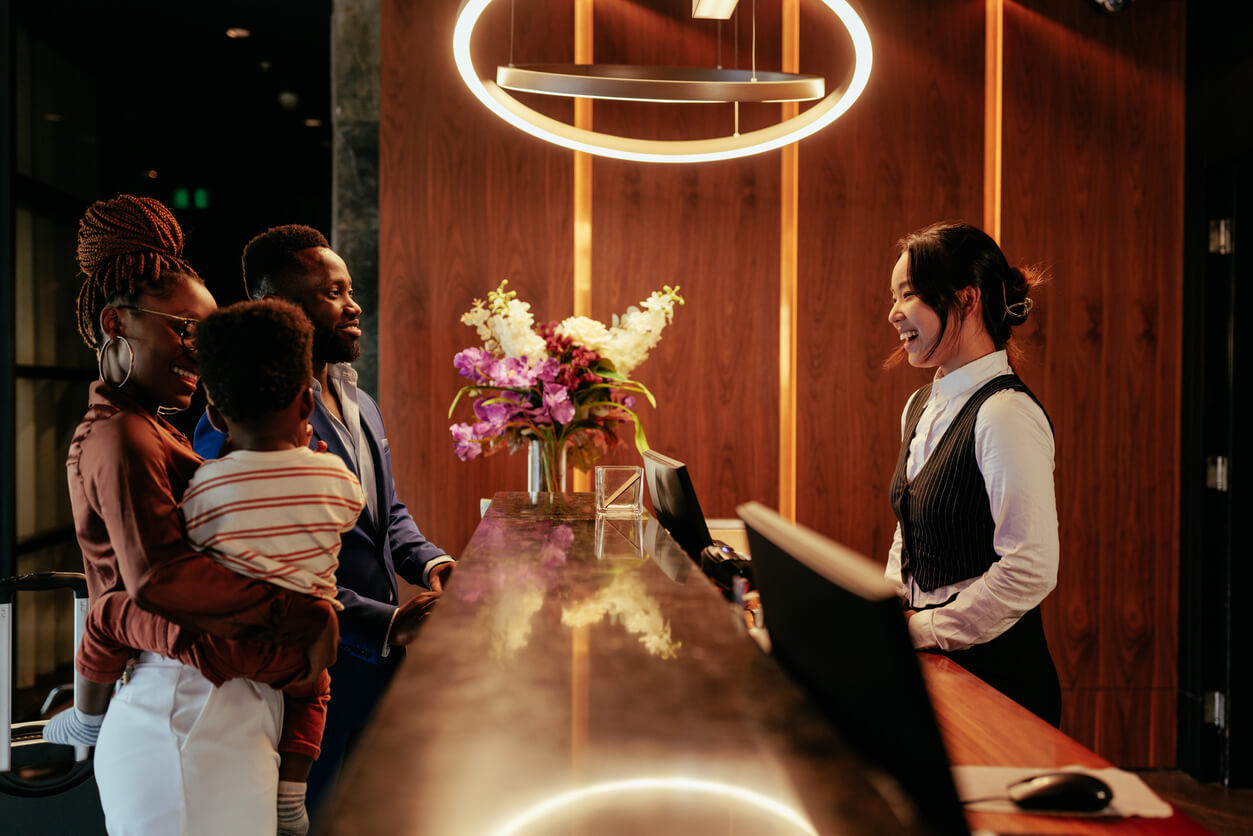 Implement Online Check-in
The average guest check-in takes 8 minutes. When you think about how many guests you have and the queues at reception, that's a real problem. A busy front desk and long lines upon arrival do not make for a great first impression on your guests.
There is a better way: online check-in.
Modern hotel technology lets you craft a bespoke online check-in system that reduces queues and allows guests to simply turn up and head straight to their rooms.
Online check-in also allows you to:
Collect personal information for targeted marketing
Upload scanned documents
Insert custom questions as needed
Offer room and transportation upsells
Process payments ahead of time
We found that hotels that used Duve to implement online check-in experienced a 75% online check-in completion rate —meaning significant reductions in physical queues and freeing up their staff to provide guests with personalized care — which is what hospitality, and a great guest experience is all about.
Learn More: Contactless Online Check-in For Hotels
2. Send A Pre-arrival Email
Make a first impression before they even step foot into your hotel with a pre-arrival email.
Let guests know anything practical they might need before they arrive, such as parking registration, any local events coming up, fire alarm drills scheduled, etc without overwhelming them at the front desk or with notes in the elevator that they could easily miss.
These emails let guests know you care and are thinking about them before they've even turned up.
Pre-arrival emails can also be customized according to guest segments — you might send a general welcome email to guests staying with you for the first time, and a different one for repeat or loyal customers who would appreciate the personal touch.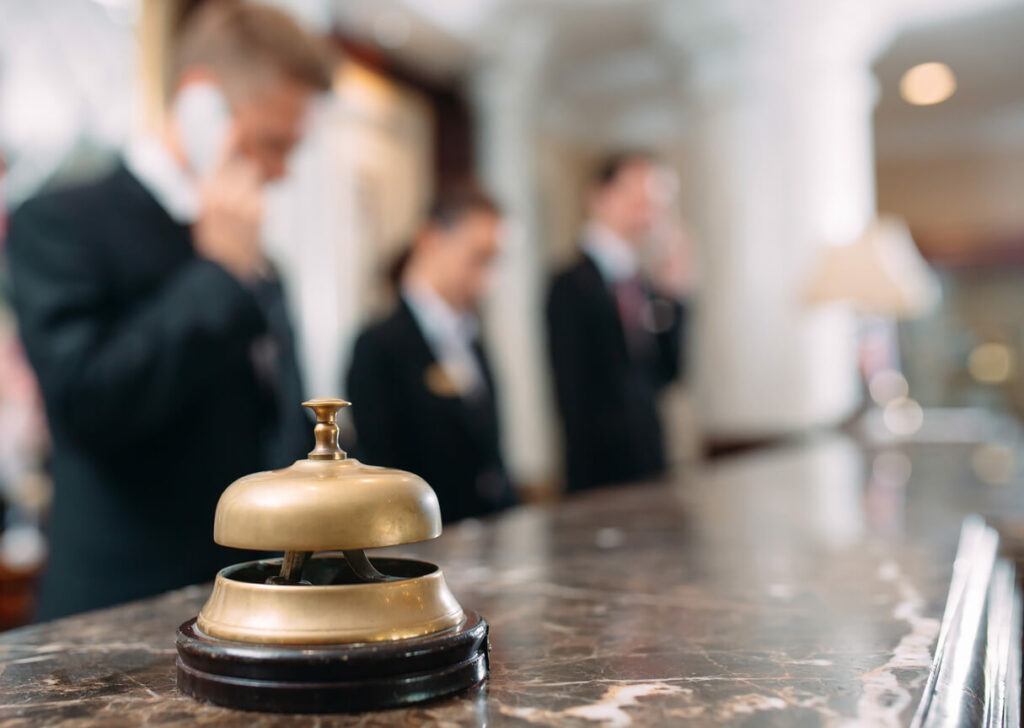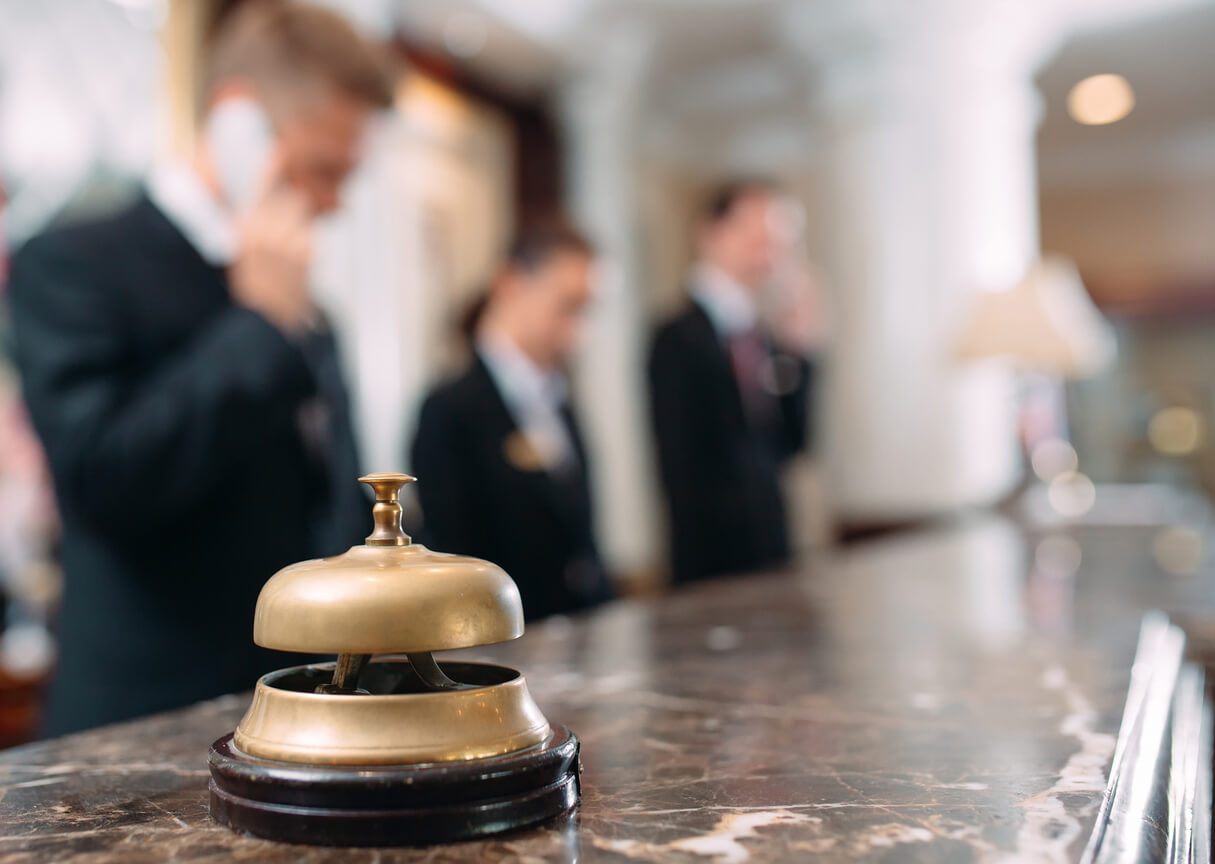 4. Perfect Your Front Of House
Your front desk is the first thing guests see when they check-in and the last thing they see when they leave. Getting things right here can set customers up for an excellent experience. Which is why we recommend investing in your front desk staff. You need to ask yourself the following:
Do you have enough staff to do the job?
Do you have a clear list of priorities and procedures for any eventuality? (complaints procedures, walking guests, etc)
Are you providing your staff with the latest training and support so they can keep providing top-notch service and hospitality?
We get it – hiring enough staff in the middle of a staffing crisis is easier said than done. But hotel technology is here to help. With the right tools, one staff member can do the work of two or three — great news considering the ongoing staff shortages.
Investing in your staff and hotel technology all contributes to a better front-of-house experience for your customers. And with the importance of first impressions, this can have a significant effect on your guests' overall stay.
Learn More: How To Improve Your Front Desk Operations: 7 Practical Tips
5. Web Apps Set Guests Up For A Great Experience
Each of your guests is as unique as you are. While some might prefer the human touch, many would rather skip the queues at reception and get the information they need at the tap of a button.
That's why a guest app helps create a better overall guest experience. A good guest app would include reservation information, a local guidebook (including images and videos), plus restaurant recommendations, etc.
"The Duve solution is beautifully designed and simple to use which is not easy to achieve and can have a great impact on the hotelier and guests alike. Guests increasingly expect a smooth and tech-enabled experience and Duve delivers this at a high standard." — Nadia Petropoulou, Cloudbeds
A guest app shouldn't require any downloads. It should be web-based, with your hotel's name and brand on it. Some web apps (psst—like ours) go even further and include mobile door keys that can be shared (or revoked) with guests as needed, which is great for large families.
Read More: The Best Hotel Guest App
6. Give Guests A Smart (Chatbot) Choice
Can I have some extra towels sent up? Is there a good steak restaurant nearby? What time is street parking free?
All of these are common questions guests will ask again and again. But a smart AI chatbot embedded into your guest app can answer these and more, which reduces pressure on your staff by eliminating simple questions with straightforward answers.
Why does this make for a better guest experience?
Well, this gives your customers more options. Sure, some prefer that human connection, but others would rather get the information instantly. By offering them both options you give them choice — which is what great hospitality is all about.
6. Drive Revenue And Drive Experiences, With Custom Upsells
Your staff are hospitality experts, not sales experts.
By providing guests with custom upsells based on their unique preferences, you're actually crafting a personalized offer for them, and showing them relevant offers that improve their stay.
You wouldn't offer the romantic spa package to the young family traveling on holiday because it would be much less likely to sell — and might even make them question why you offered it.
But that same offer would be much more likely to be appreciated by couples on romantic getaways.
Hotel tech allows all of this to be automated via smart rules so you can target guest profiles and craft custom offers they're more likely to appreciate, which not only drives revenue but makes for a rounded and fulfilling guest experience.
Learn More: Customized Upsell Platform
7. Stay On Top Of The Latest Hospitality Trends
Guest preferences change fast, and what worked for you last year may not have the same effect this year. You need to keep your finger on the pulse and stay ahead of the latest hospitality trends.
A recent report by the Hilton group highlighted some interesting trends to be aware of:
The growth of wellness tourism — 49% of employed respondents will travel and seek to disconnect from work in 2023
There is a renewed respect for the basics of hospitality, with 93% of respondents stating a poor hotel can make or break their trip
Finally, 42% of respondents said that whether a hotel had a loyalty program or not was an important consideration when it came to booking.
Being aware of recent trends and doing your best to address them is a great way to improve overall guest experience. That's why we reached out to our network of hotel industry veterans and dove deep into this topic – check out our own 2023 trend report in the link below.
Learn More: Hospitality Trends That Will Define 2023
8. Solve Problems Quickly With A Unified Communications Hub
Hotel guests have increasingly high expectations. And if something doesn't go their way you'd best be prepared to hear about it online!
But there is a solution: a unified communications hub. This means all your conversations with every guest — no matter the channel — are on one easy-to-read screen for your staff to see and respond to.
A communications hub makes for efficient problem solving which equals happier guests and a better guest experience.
That means you can:
Mass message guests with smart filters
Delegate and assign messages to different members of staff
View customer data to send custom upsells to specific groups of guests
Use canned messages to save time
Offer custom upsells via chat
The faster you can solve their problems, the better chance you have of creating an excellent guest experience and enhancing your brand. Because if there is a problem with your guest's room, they want it solved now, not in 3 hours' time.
"Duve was a game changer for our customer service. I knew the platform would help us connect with guests but I was amazed at how cleverly simple it all is, even guests who are not very tech-oriented use Duve to communicate with us." — Dina Raxon, The Setai Hotel
Read More: Elevate your Guest Experience Using Hotel Automation
9.Check In With Your Guests After They've Checked-out
All because your guests have packed their bags and left doesn't mean their overall experience is over. You still have a chance to leave a good impression or failing that, ward off negative reviews.
That's why we strongly recommend sending guests a post-stay survey or email.
It's your final chance to leave a good impression and encourage those who had a pleasant stay to spread the good word about your business — whether that's online or just to their friends and family.
Learn More: 7 Tips For Better Guest Communication
Give Your Guests An Experience They'll Remember
Providing an excellent customer experience from check-in to check-out (and beyond) sounds like a lot of work, and you're not wrong.
But advances in hotel tech mean you can automate large parts of this process without lifting a finger.
Everything from online check-in and web apps to smart AI chatbots and custom upsells is easily automatable and helps enhance guest experience, improve your brand's reputation, and drive up revenue.
Duve has been helping hotels of all sizes reach their full potential since 2016. Curious about how we can help you grow?