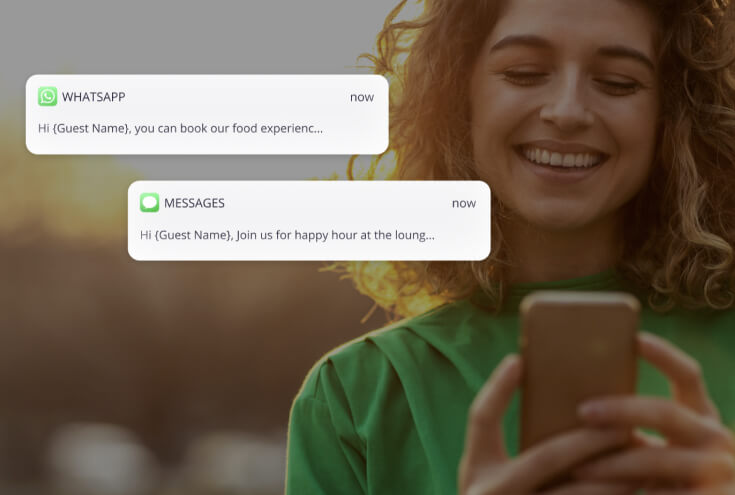 The power of personalization is even more important in the ultra-competitive digital era. Guests expect a personal approach from their favorite brands.
Importance of personalisation in hospitality
Many hoteliers recall a time when the service representatives we faced knew our name, and the reception team at the hotel were familiar with returning guests and possibly even remembered their room of choice and favorite snack. That's what we called personalization before everything went digital. It's the same reason why hotels today personalize their emails and messages to guests by their first name and why they need to take personalization to the next level.
83% of consumers are willing to share their data to create a more personalized experience.
The power of personalization is even more important in the ultra-competitive digital era. Guests expect a personal approach from their favorite brands. They want to feel heard and there is no better way to establish a relationship with guests than by offering a personalized experience.
Digital personalization lets you avoid overwhelming guests by sending the right number of targeted offers to specific guest segments. Sending the right message at the right time to the right guest can go a long way towards retaining guests, and increasing ancillary revenue.
Target the right guest with the right offer through segmentation
Duve allows hoteliers to set of well-defined guest segment in order to talior the guest experience to different types of guests a hotel attracts. For example, if you keep sending family reservations irrelevant experiences or a romantic experiences to a single person, they will not get any value out of the hotel communication and the hotel will not be able to capitalize from guest engagement.
Guest segmentation allows you to increase your revenue potential. By creating different segments, your audience can then be categorized. These categories indicate their interests and will allow you to tailor relevant content and services.
How hotels use Duve to offer a remarkable experience
Here are some ideas for how hotels have been using guest filters and segments:
Plan: sending deals to guests based on the plans that they booked is a great way to assure you are sending them relevant offers. This will allow hoteliers to create special offers and sell additional meals on slower days.
Length of stay: guests who book additional nights are more likely to be interested in advanced activities and entertainment.
Single guests vs. couples and families: while romantic packages for couples can be an excellent upsell, travellers with children might be interested in a different set of activities and meals.
Arrival method: The arrival method is collected as part of the online check-in and can be a great segment for guest messaging, sending only relevant guests information about parking or arrival instructions.
Country of origin: Guests from some countries are known to be interested in specific activities, and creating special packages can be a great way to create new revenue streams.
Booking source: there are plenty of messages
Custom Questions (coming soon) – Hotels can create custom questions as part of the online check-in process and will soon be able to create segments based on those questions. For example asking your guests if a special event is being celebrated, if they are visiting the location for the first time and more
By using Duve's segmentation hoteliers can control guest experience and tailor the hotel facilities to the guest's needs. This personal approach allows the hotel to provide a unique experience to each and every guest, much as if each guest had a personal travel consultant at his disposal. The result is higher guest satisfaction, as well as conversion rates that allow hoteliers to create new revenue streams.