The hospitality industry is all about creating memorable experiences for guests, and one of the most important aspects of that is guest engagement.
Hoteliers who can successfully engage with their guests not only build a loyal customer base but also increase their chances of attracting new guests through positive word-of-mouth reviews. However, achieving high levels of guest engagement is not always easy, and it requires a combination of factors such as personalized service, a welcoming atmosphere, and modern technology. In this blog post, we'll discuss some of the best ways hoteliers can improve guest engagement and create an unforgettable experience for their guests.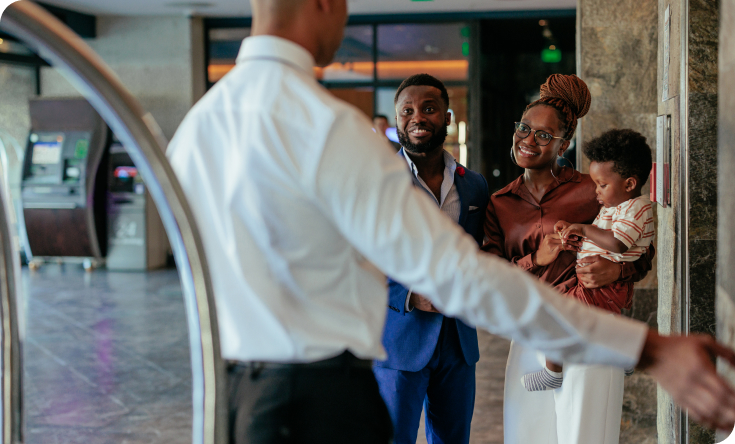 What is Guest engagement?
Guest engagement is a marketing strategy that involves hotels interacting with guests through various marketing channels, such as social media platforms, and receiving feedback about their experience. This strategy can influence potential clients' habits, keeping them engaged throughout their booking journey. It creates a long-term connection between the client and the hotel, building brand loyalty, maintaining a good relationship between the hotel and the client, and improving client satisfaction.
Connect, Engage, Repeat: Transform Your Hotel's Guest Experience!
Here are several strategies to improve guest engagement:
Personalize the Guest Experience
Personalization is essential in today's hospitality industry. Guests are looking for a unique experience tailored to their needs and preferences. To personalize the guest experience, you can collect data from your guests, such as their booking history, preferences, and feedback, and use this data to provide customized recommendations and experiences. For example, you could offer a personalized welcome message or suggest activities or restaurants based on their preferences.
Utilizing a good guest experience platform can also provide the right tools to easily curate a personalized experience unique to each guest. Using a guest app hoteliers can better understand guests and offer them services and experiences that best fit what they are looking for.
Communicate Effectively
Clear communication is critical in guest engagement. Ensure that your guests are well-informed about your hotel's services and amenities, as well as any changes or updates. You can use various communication channels such as email, social media, and messaging apps to stay in touch with your guests. Providing multilingual support is also an excellent way to make guests feel comfortable and engaged.
The most efficient way to communicate with guests is by having one hub that lets you communicate across all channels based on the customers preference (whatsapp, sms, email, etc). It is also beneficial to implement smart and automatic responses that cut down reply time, and help manage more important communication.
Leverage Technology
Technology can play a significant role in improving guest engagement in hotels. Today's guests expect seamless and hassle-free experiences, and technology can help provide this. For example, you could implement self-check-in kiosks, pre-check via web or mobile apps, mobile room keys, and chatbots to offer quick and efficient service. Today many hoteliers are upgrading their facilities, operations and systems to be more modern and tech-based. Like the use of guest apps that gives guests access to mobile check-in, open communication channels, all hotel information and way more. The use of guest apps has made the hotel experience more seamless than ever before. Moreover, you could use data analytics to analyze guests' behavior and preferences, which can help you provide a personalized experience.
Offer Unique Experiences
Offering unique experiences is an excellent way to engage with your guests. With the right technology you can understand exactly what your guests enjoy and can offer the most suitable experience for them. For couples traveling for a romantic get-away you can offer events such as wine tastings, cooking classes, or city tours to help guests discover the local culture and heritage. Alternatively, you could offer wellness programs, such as yoga classes or spa treatments, to help guests relax and unwind. Whereas for guests traveling as a family with kids you can offer local family attractions such as zoos, amusement parks or other family friendly attractions. Provide each guest with an experience unique to their needs.
Personalize Every Stay: Master the Art of Guest Engagement!
Encourage Feedback and Reviews
Feedback and reviews are an essential part of guest engagement. Encourage your guests to provide feedback on their experience and respond promptly and professionally. Positive reviews can help attract new guests, while negative reviews can provide valuable insights into areas that need improvement.
It is important to make the feedback process as easy and enjoyable as possible for your guests. Consider providing multiple channels for feedback, such as an online survey, email, or even a physical suggestion box. Also, make sure to acknowledge and thank guests for their feedback, regardless of whether it is positive or negative. It can also be helpful to offer incentives for leaving feedback, like a discount on their next stay or free breakfast on the last day. Acknowledging the importance of guests feedback demonstrates to guests that you are committed to improving and providing excellent customer service.
In conclusion, improving guest engagement in hotels requires a holistic approach that includes personalization, effective communication, leveraging technology, offering unique experiences, and encouraging feedback and reviews. By focusing on these areas, you can build a loyal customer base, differentiate your hotel from the competition, and create an environment that guests will want to return to time and time again.