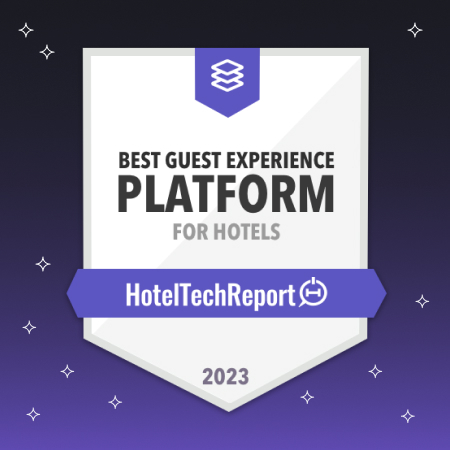 The hospitality industry is ever-changing and evolving. Hoteliers are always trying to find solutions to provide guests the best experiences while keeping up with hotel operations to leave a lasting positive impact.
Duve is the most advanced end-to-end solution for hoteliers that provides guests an overall hub which covers the entire guest journey. Duve provides everything guests need before, during and after their stay at a hotel–from pre check-in, to post check-out.
Duve's solution gives hoteliers the right tools to exceed guest satisfaction, and simplifies hotel processes to better provide for guests.
Duve building toward success 2023 and beyond
Duve was named the Best Hotel Guest Experience Platform of the 2023 Hotel Tech Awards, having made it as finalists in four different categories: Contactless Check-in, Hotel Guest App, Guest Messaging Software and Upselling Software.
Having collected more than 300 customer reviews across all categories, Duve is dedicated to delivering an unparalleled hospitality experience to hotels and vacation rentals across the globe. On top of that success, Duve was recently granted Level 3 certification of Hotel Tech Report's Global Customer Support Certification, proving their ability to deliver excellent customer service to thousands of hoteliers.
"Being acknowledged as best in class by Hotel Tech Report – the world's top go-to platform for discovering hotel technology – is an honorable achievement. Over the last year, we've been observing the strong need for a unified solution that hoteliers and hosts can implement into their tech stack in order to manage the entire lifecycle of a guest's stay. The growing trend towards digitalization drives the need for prioritizing real hospitality and exceptional experiences for guests throughout their stay. It has become more important than ever for hoteliers and hosts to focus less on manual operations, and more on relying on one strong system that ties into their PMS to help them handle the entire guest experience from booking and through checkout. Our progress has been tremendous and it could not have been done without the commitment of our thousands of customers and of course hundreds of partners – from PMS's to digital key providers, as well as payment service providers, and third-party marketplace vendors. We're highly committed to continuing this success and are deeply thankful for being given this award in recognition of our achievements."
– Chief Executive Officer, David Mezuman
Stand above the competition and deliver the ultimate guest experience at your hotel with Duve. By implementing the right tools, and the right systems you can improve guest satisfaction. Increase your reviews, brand image, and boost your revenue.
Duve provides services like:
Online check-in/check-out
Mobile keys
Customized upsells
Guest analytics and segmentation
Hotel branding
And more