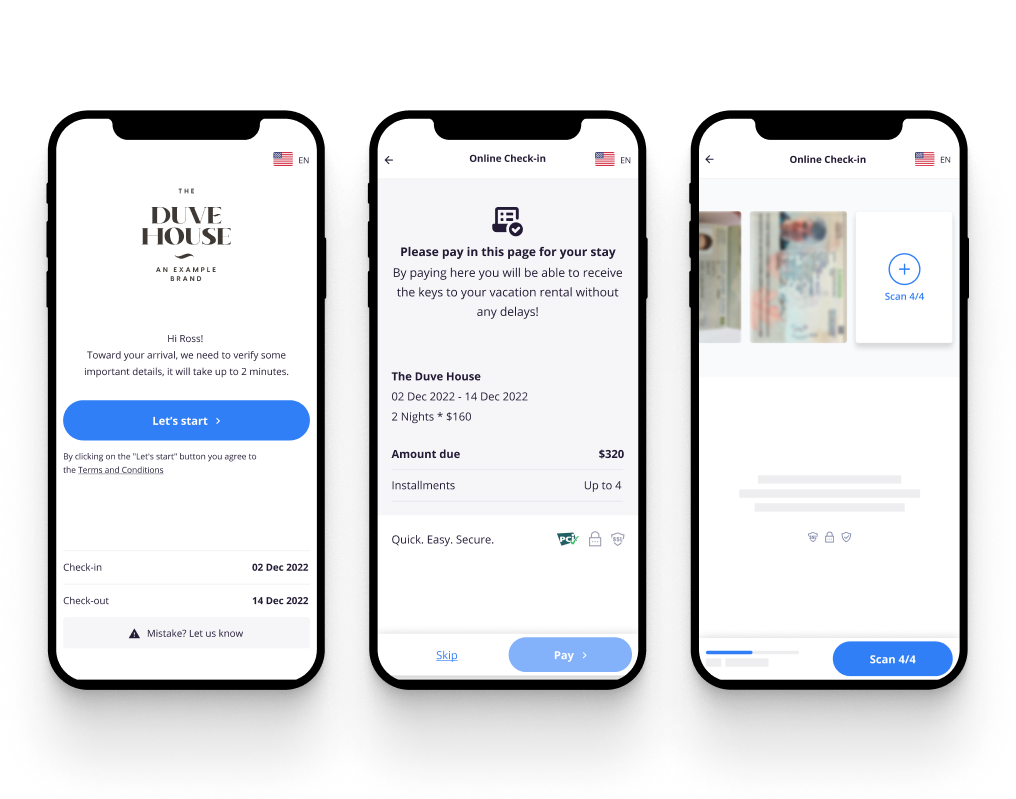 In this blog post, we will provide a complete guide to everything you need to know about Hotel Mobile Check-In, including what it is, how to use it, along with the advantages and disadvantages of using this method for check-in. With this guide, you'll have all the information you need to make an informed decision when deciding whether or not to use a mobile check-in hotel.
Here's everything you need to know when it comes to hotel mobile check-in:
What is hotel mobile check-in?
Hotel mobile check-in, also known as hotel contactless check-in or digital check-in, is a process that allows guests to skip the traditional check-in line at hotels and instead use their smartphone to complete the process before arriving at the hotel. This technology also allows guests to receive room keys (mobile keys and other check-in information instantly on their phones.
Hotel mobile check-in is becoming the new norm at hotels, as it provides a faster and simpler way for travelers to get their rooms without any delays. With hotel digital check-in, both guests and hoteliers alike can save time and avoid long waits at the front desk. Not only does this make the experience more enjoyable for guests, but it also allows hotel staff to focus their energy and time on other important tasks.
Hotel digital check-in typically requires you to enter your name, email address, and payment information in order to gain access to your room. Once this information is verified, guests receive a text message with a unique code that allows them to unlock the room door and access the room key. Guests can also use this same code to gain access to the hotel's WiFi network, making their stay even more convenient.
Implement a faster and more efficient check-in process so your guests can enjoy the hotel from the minute they arrive. With hotel mobile check-in, hoteliers can save time for staff and allow staff to concentrate on important tasks like providing the best service for guests. Plus it eliminates costs for hoteliers, as mobile check-in replaces the need for extra staff at the front desk. Make your hotel a more enjoyable and stress-free environment.
Let's Dive Deeper: How does it work?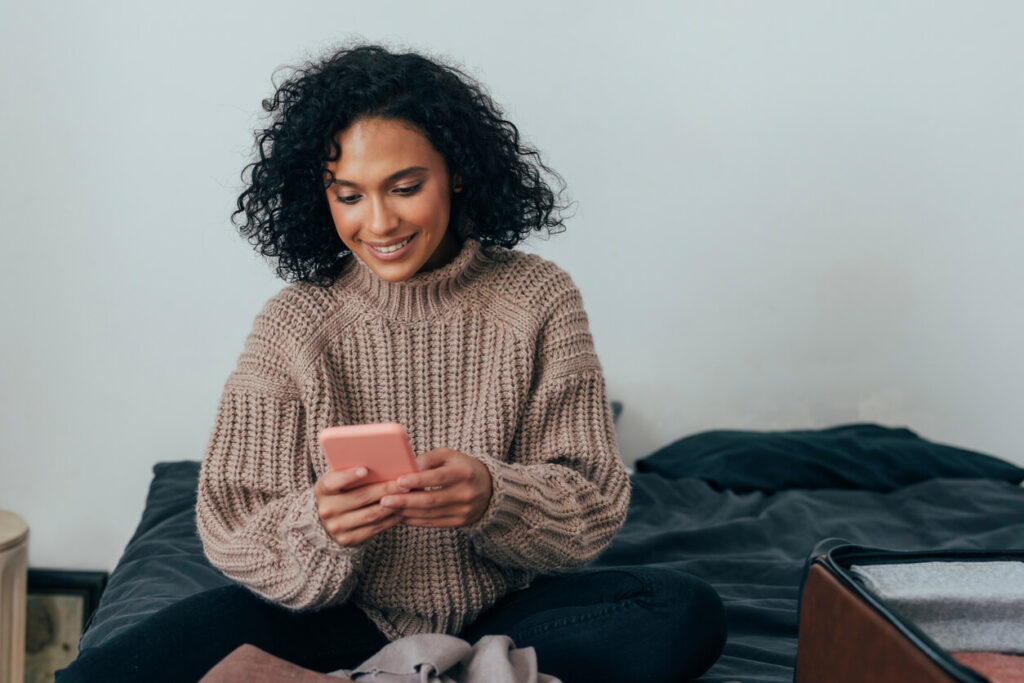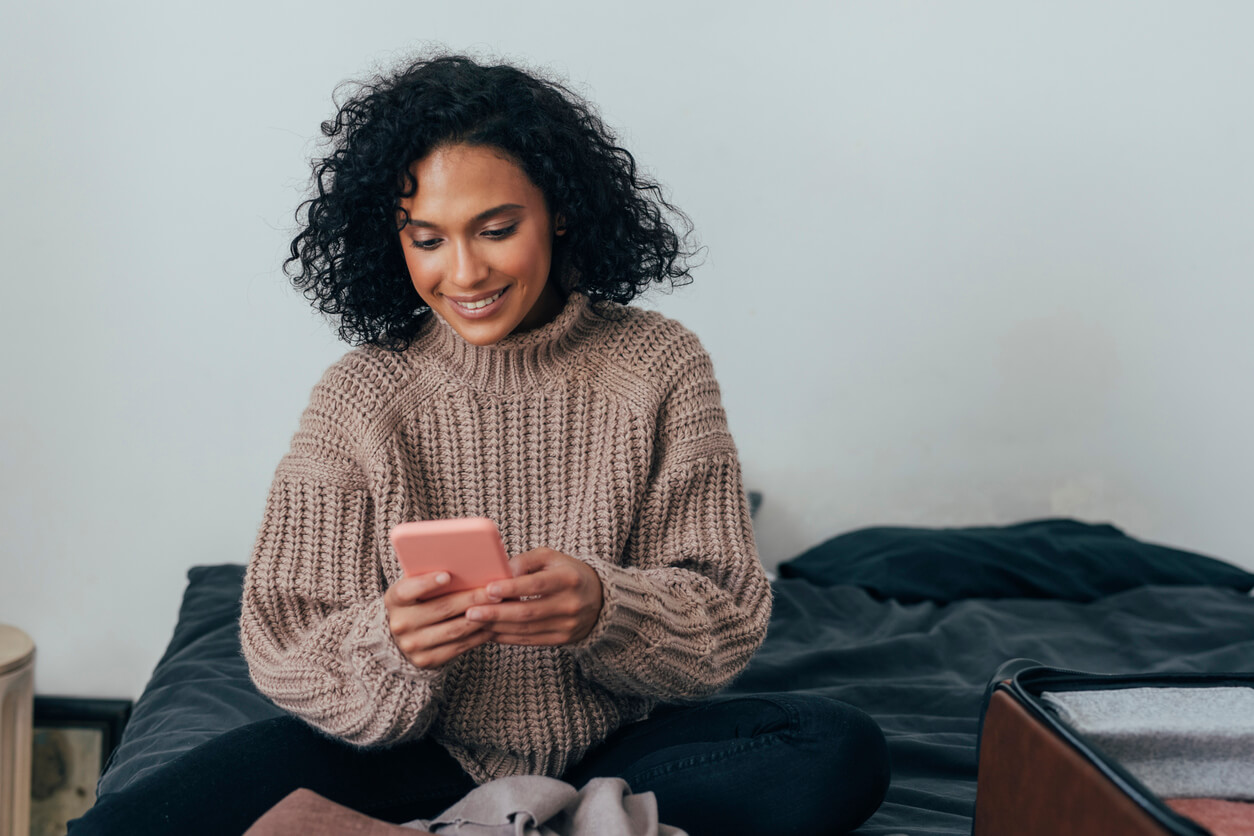 Hotel mobile check-in involves using a digital system, such as an app or website, that allows you to book your room and complete the check-in process. This technology eliminates the need for physical interaction with reception staff, reducing touchpoints and making your stay more secure and efficient.
The traditional hotel check-in process usually requires visitors to present their ID and credit card at the front desk, along with some light paperwork. With hotel mobile check-in, guests can now avoid this step by submitting their information electronically via an app or website. To use a digital system, travelers can log into their hotel's website or app and enter their booking details. Once the information is confirmed, they will receive a code that can be used to unlock their hotel room door, this also means guests will never lose their keys, and have the ability to unlock their room in the palm of their hand.
A good guest app provides all the necessary needs for the perfect guest experience, this includes mobile hotel check-in, check-out, room upgrades and more. It is important to choose the right guest app that is completely white-labled and in-line with hotel branding.
Hotel digital check-in systems offer many advantages to both guests and hotels. For guests, they provide a safe and contactless way to check-in while also allowing them to arrive at their destination without any delays. Hotels also benefit from reduced costs associated with manual check-ins, as well as improved customer satisfaction.
Overall, hotel contactless check-in is an efficient and secure way to ensure that travelers have a seamless experience when arriving at their destination. By embracing digital technologies such as hotel digital check-in systems, hotels can ensure that their guests have a safe and comfortable stay.
What are the benefits of online check-in for Hoteliers?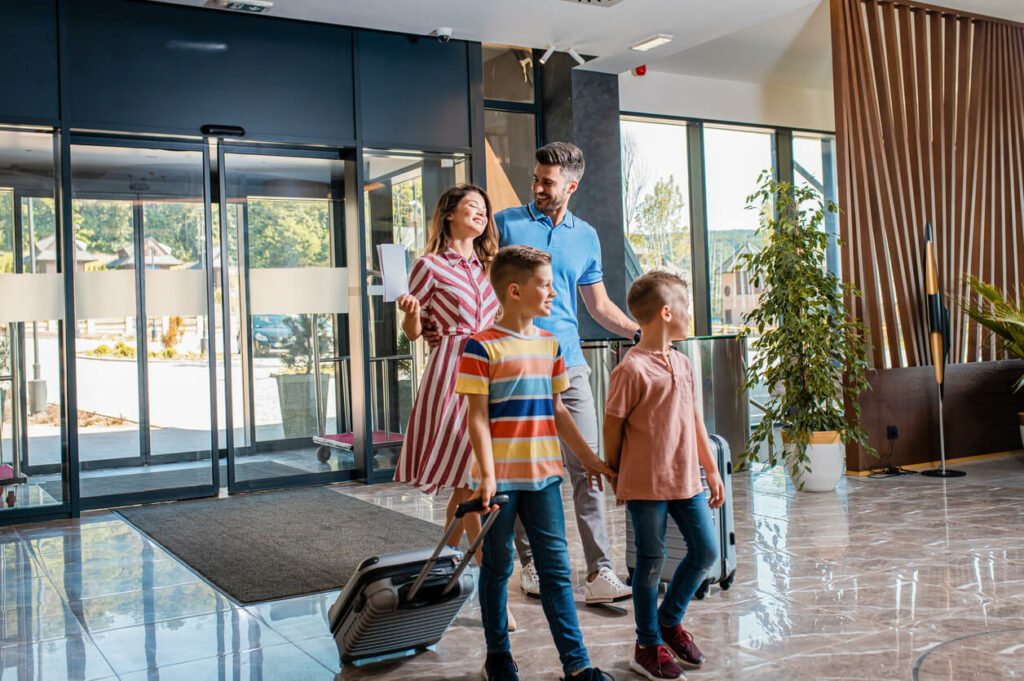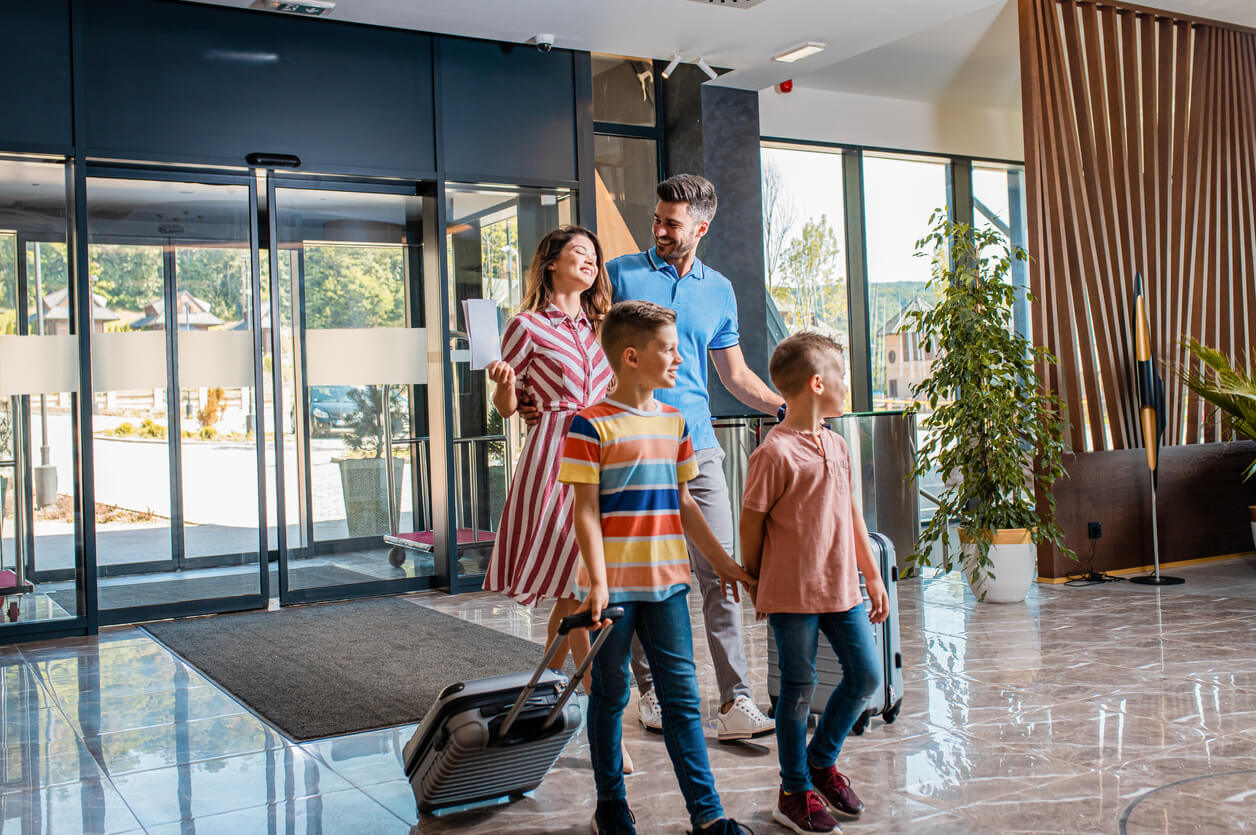 Online check-in is a great way to promote a positive guest experience with advanced technology that eases guest procedures for both guests and staff. Hotels that offer mobile check-in can benefit in a variety of ways, including saving time, cost and improving efficiency.
The first and most obvious benefit is that hotel digital check-in eliminates the need for physical contact with front desk personnel, significantly reducing the risk of spreading germs and viruses. This is especially beneficial during times of public health concerns when it's important to limit face-to-face contact. Digital check-in also allows guests to begin their stay with a fast and convenient process, allowing them to spend more time enjoying the facilities or the destination itself.
Another key advantage of hotel contactless check-in is that it offers greater flexibility for guests. With digital check-in, guests can arrive at any hour without having to wait for someone to be available at the front desk. Additionally, contactless check-in gives guests the freedom to choose their own room and view photos of the available options, so they can make sure they're getting exactly what they paid for.
Finally, offering digital check-in gives hotels the opportunity to save money on staff costs. By automating this process, the hotel can reduce the number of personnel required to handle check-ins, which can result in significant savings over time. In addition, digital check-in eliminates the need for hard copies of documents such as guest information cards and guest lists, which can reduce administrative costs.
Overall, hotel digital check-in provides numerous advantages for both hotels and their guests. From creating a safe and contactless experience to saving money and time, mobile check-in offers an easy and efficient solution for all types of travelers.
What are the benefits of online check-in for Guests?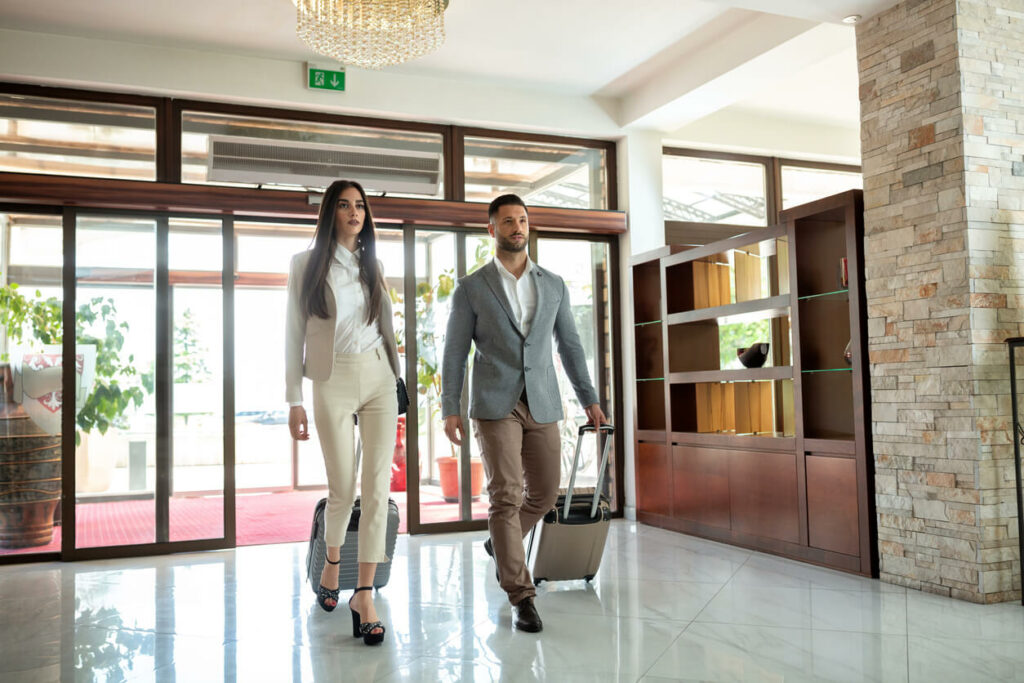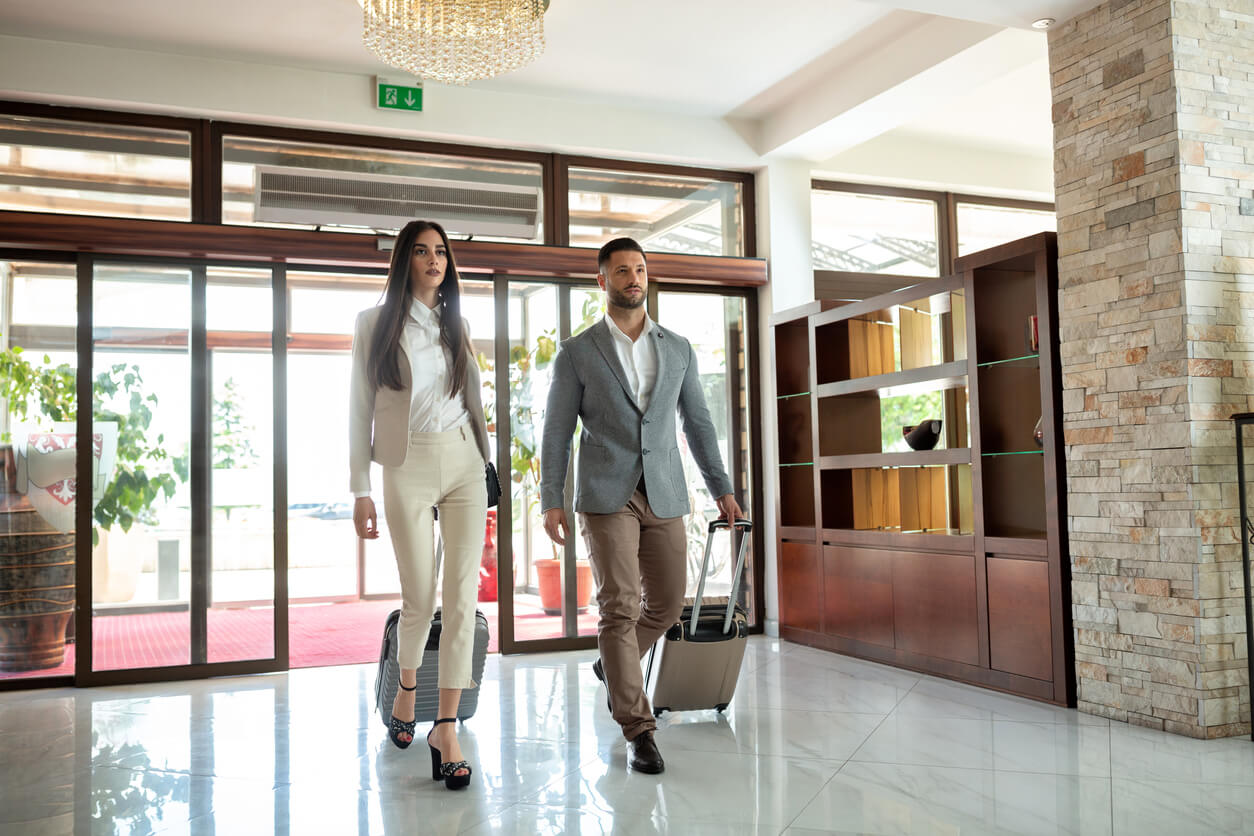 More travelers opt to complete the entire check-in process before they arrive at the hotel, for convenience, safety, and efficiency. Plus, it eliminates the need to delay their stay by waiting in-line at the front desk. Guests can submit all of the required information before they arrive and simply pick up their key when they arrive. This reduces wait times and makes the check-in process much more efficient.
Additionally, mobile check-in allows for more flexibility for guests. They can check-in at any time of day, even if the hotel front desk isn't open. This means that no matter what time guests arrive, they can be assured that their room will be ready for them.
Mobile check-in also provides guests with a more personalized experience. When they use the digital check-in process, they can provide additional information that allows hotels to customize their stay accordingly. This can include special requests such as pillow preferences or early check-in or late checkout requests.
Finally, mobile check-in can help make a guest's stay safer. The contactless process means that guests don't have to come into contact with other people or surfaces, reducing the chance of getting sick or exposed to germs.
Overall, hotel digital check-in is an incredibly convenient and secure process for guests. It can make the entire check-in process much faster and smoother, and offers many additional benefits such as personalization and safety.
What are the cons of online check-in?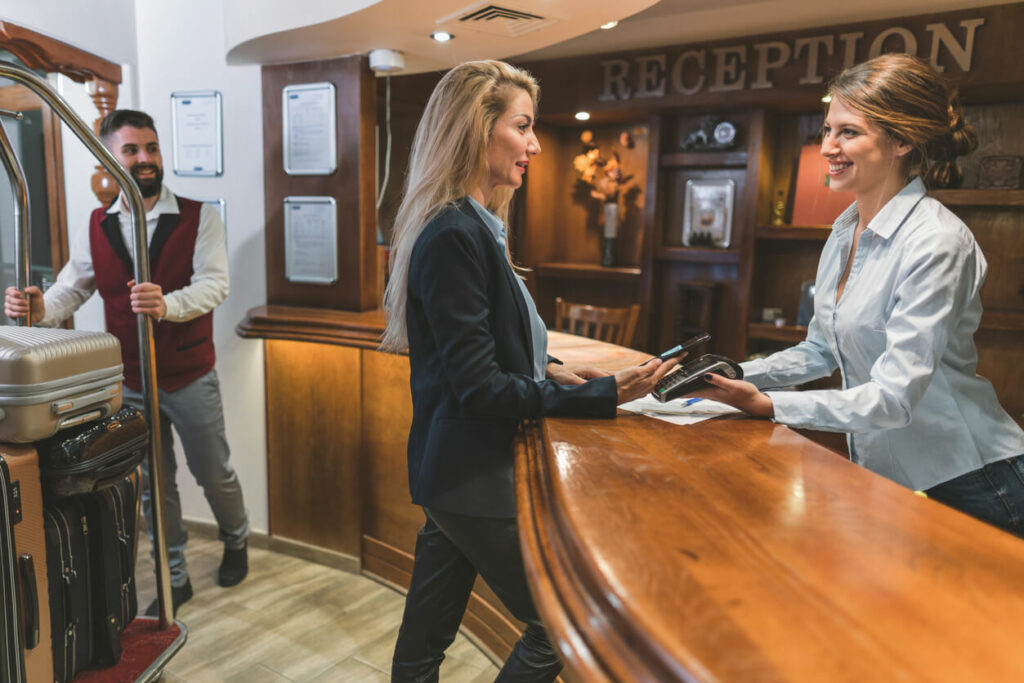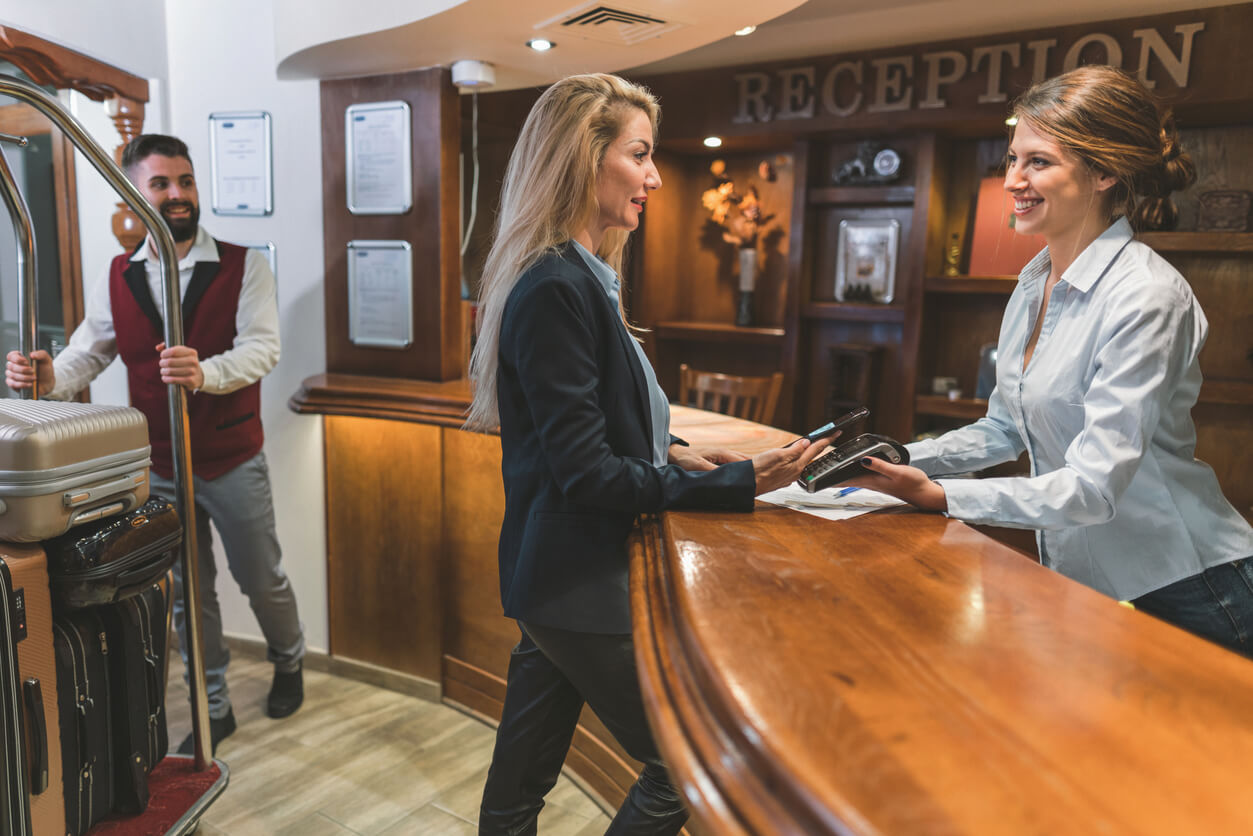 While online check-in does provide many benefits for travelers, there are some potential downsides that should be considered when deciding whether or not to use this feature.
One of the primary cons of hotel contactless check-in is that it eliminates the opportunity for human and personalized customer service at the front desk. Hotel staff may not be able to greet guests or assist with any special requests when a guest checks in through their device. This could be especially disappointing for those who stay at boutique hotels, which prides itself on its personalized services.
Another disadvantage of hotel digital check-in is that it requires guests to have access to a smartphone or other compatible device and be familiar enough with the technology to use it. For those travelers without access to these types of devices or without the technical proficiency, digital check-in could be a difficult obstacle.
Lastly, there is always the potential risk of fraud or identity theft when using digital check-in services. Even though most reputable hotel chains use secure protocols, it's important for travelers to remember to take extra precautions and keep personal information private when using this feature.
Overall, hotel mobile check-in can offer a lot of convenience for travelers but it's important to consider the potential cons before making the decision to use it. For travelers who need more personal assistance or don't feel comfortable with the technology, a traditional check-in process may be the best option.
Should you invest in mobile check-in for your property?
In today's fast-paced and technological world, hotel contactless check-in is paving the way to replacing traditional check-in. Hotel digital check-in saves time, effort and cost and is seen as a great investment for any property.
Hotel digital check-in can be set up in two ways: through an app or through the hotel website. If you have an existing app, you can add the feature by building a custom check-in page. You'll need to create a secure login page, provide the guest with their room number and give them the ability to review their reservation details.
Alternatively, if your hotel doesn't have an app, you can either get a hotel guest app or create a check-in page on your website, which requires integration and sync to your hotel PMS. This page will serve as a portal where guests can enter their information to get access to their room.
When it comes to setting up mobile check-in, there are a few considerations to keep in mind. First, you will need to make sure that all the information you collect is secure and compliant with data protection regulations. Additionally, you'll need to ensure that your online payment process is PCI compliant and encrypted. Finally, you should test the system thoroughly before you make it available to your guests.
Overall, investing in mobile check-in for your property can be a great way to streamline the check-in process, increase guest satisfaction and make it easier for your guests. By allowing guests to check-in using their own devices, you can save time for both them and your staff. Furthermore, a successful digital check-in setup ensures that your guests' data is secure and that all payments are handled securely. Ultimately, hotel digital check-in provides a convenient and secure solution for both the guest and the property.
Summary
Guests can check-in from anywhere using their mobile phones or tablets, giving them an extra layer of convenience and security. We hope this guide covered everything you needed to know about hotel mobile check-in and how to make the most of it. Due to digital check-in becoming so popular, it is important for hotels to get started with hotel contactless check-in, understand the different types of digital check-in available, and the benefits of using hotel mobile check-in.
FAQ's
What if someone doesn't have a smartphone or isn't tech-savvy?
Hoteliers should still offer digital ways to check-in and check-out, along with mobile keys, but if there are guests who prefer the traditional route your hotel should still offer magnetic keys, a door code, and front-desk check-in. This way guests who are unfamiliar with the new way to check-in won't get overwhelmed or agitated.
What is a good guest app that has mobile check-in?
Duve is the perfect guest app that not only provides online check-in, but also provides many hotel solutions that give hoteliers and guests ease and satisfaction. Duve earned Hotel Tech Report's level III Global Customer Support Certification (GCSC) for its investments into tools, processes and strategies to ensure the ongoing success of its customers.
Does mobile check-in also work for mobile check-out?
Yes usually mobile check-in is in-line with providing mobile check-out. The same check out procedures would be sent digitally and done completely over the web or an app.