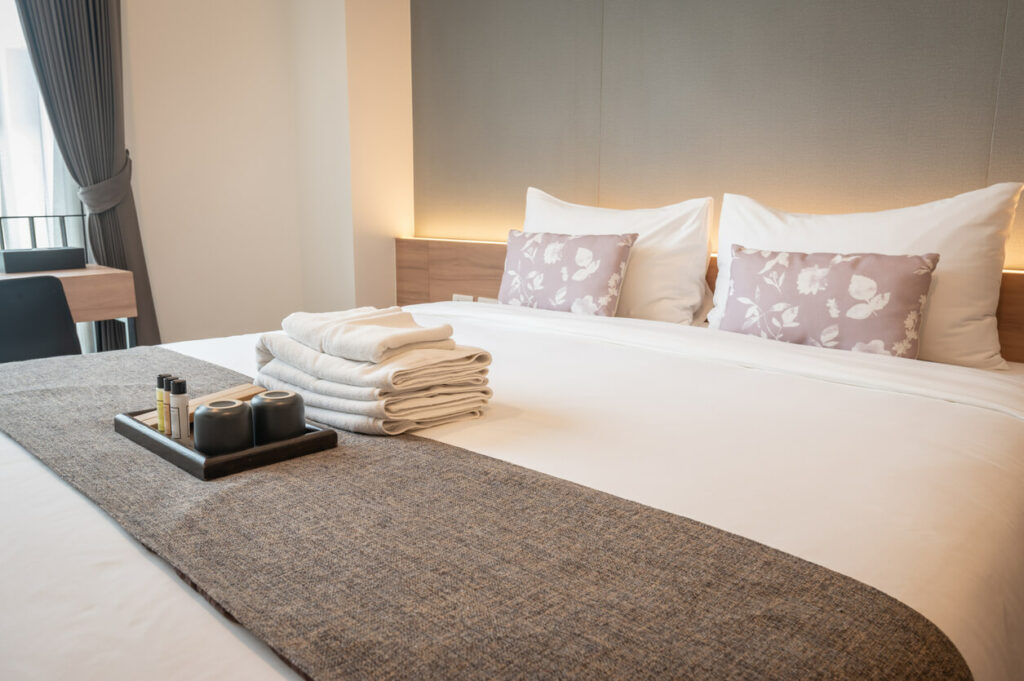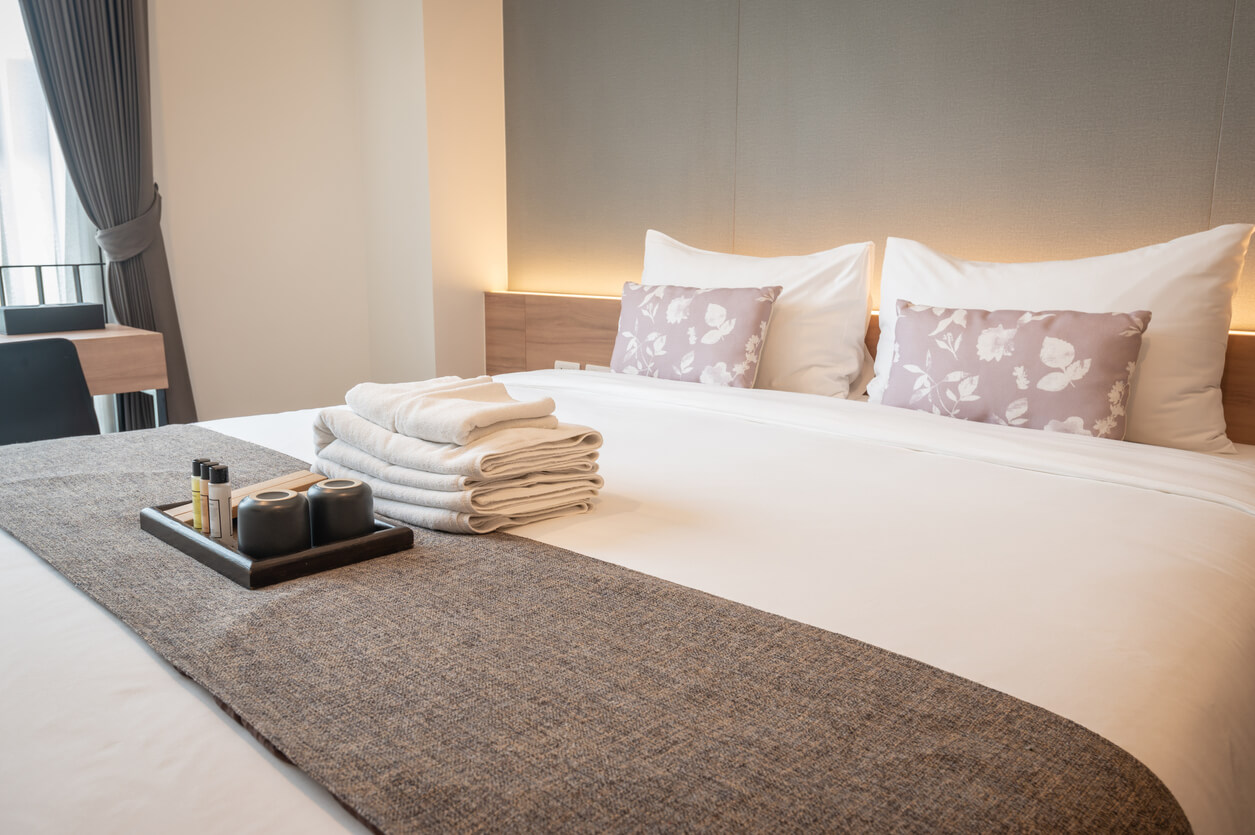 Now that 2022 is coming to an end, we decided to take a look at the difference between a good stay and a great stay. When it comes down to it there are many different factors that play into exceeding hotel guest expectations like guest services and hotel operations, but a main way to provide guests the perfect stay is by providing the right amenities.
Amenities can make the guest experience stress-free, easy and most of all, enjoyable.
Here are the top amenities every hotel should be implementing at their property:
1. Parking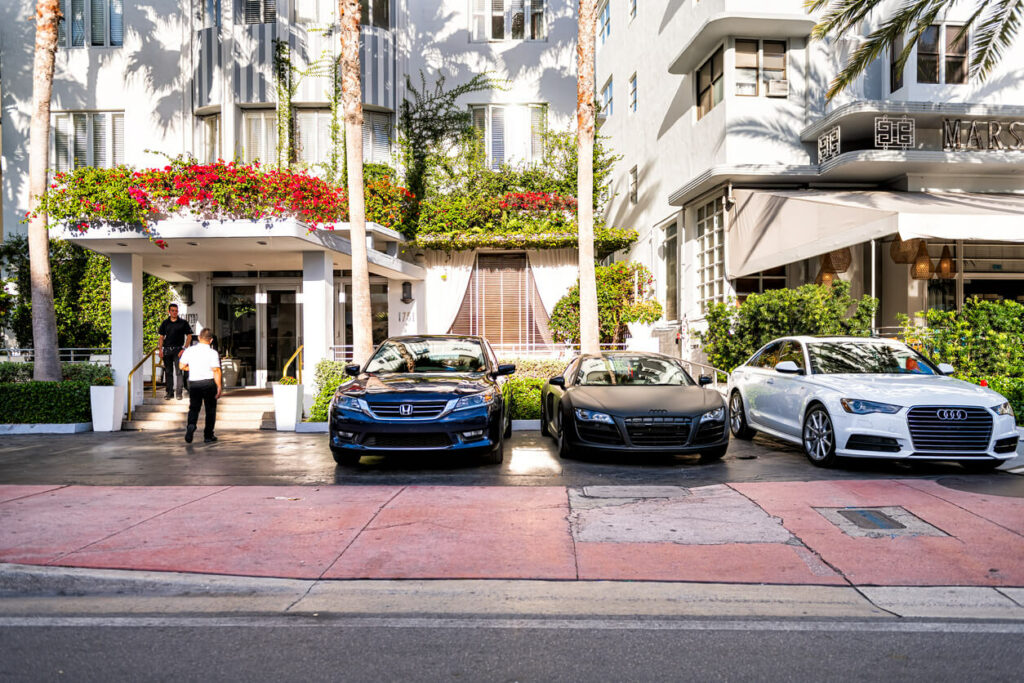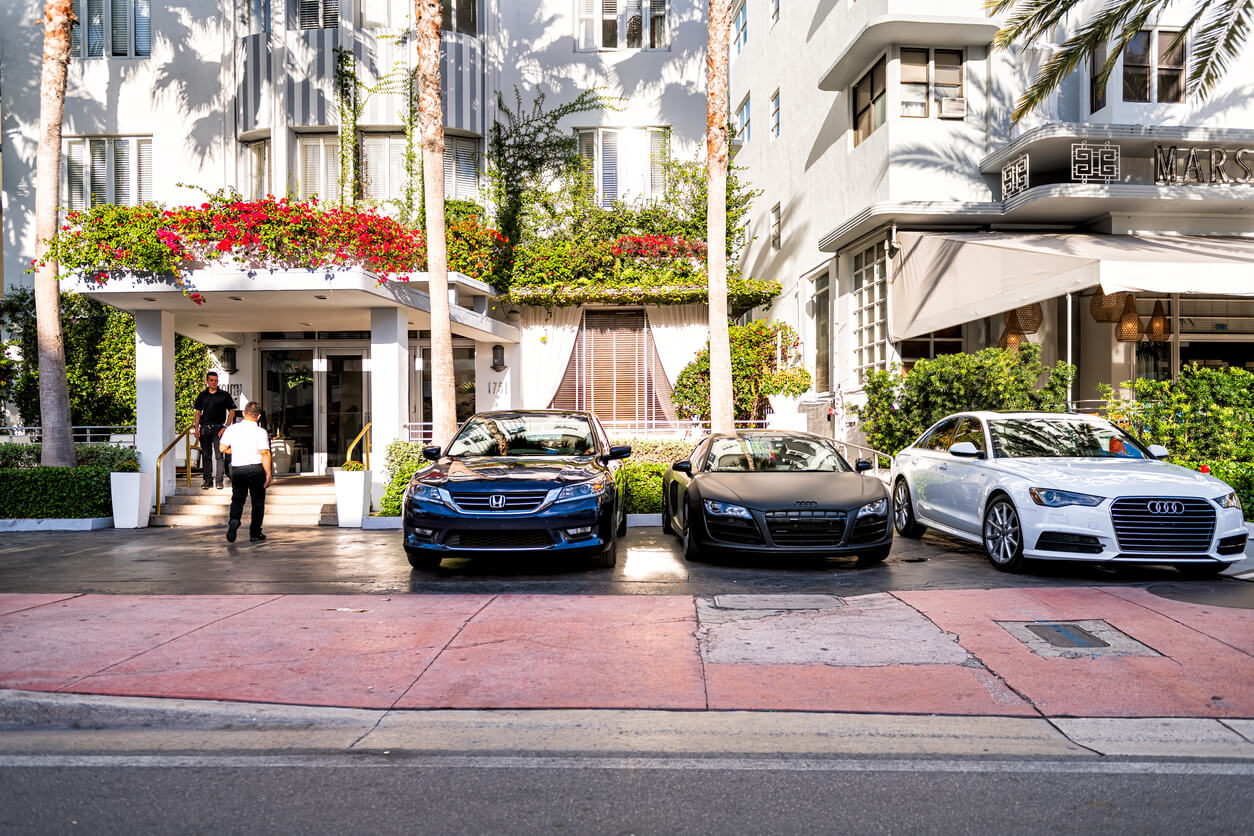 Simplify the stress of looking for parking for those guests that do arrive with a car. Not only does parking give guests close access to the hotel, it also helps them not worry about being ticketed, having to deal with moving their car, or thinking about the safety of their vehicle.
2. Bellhop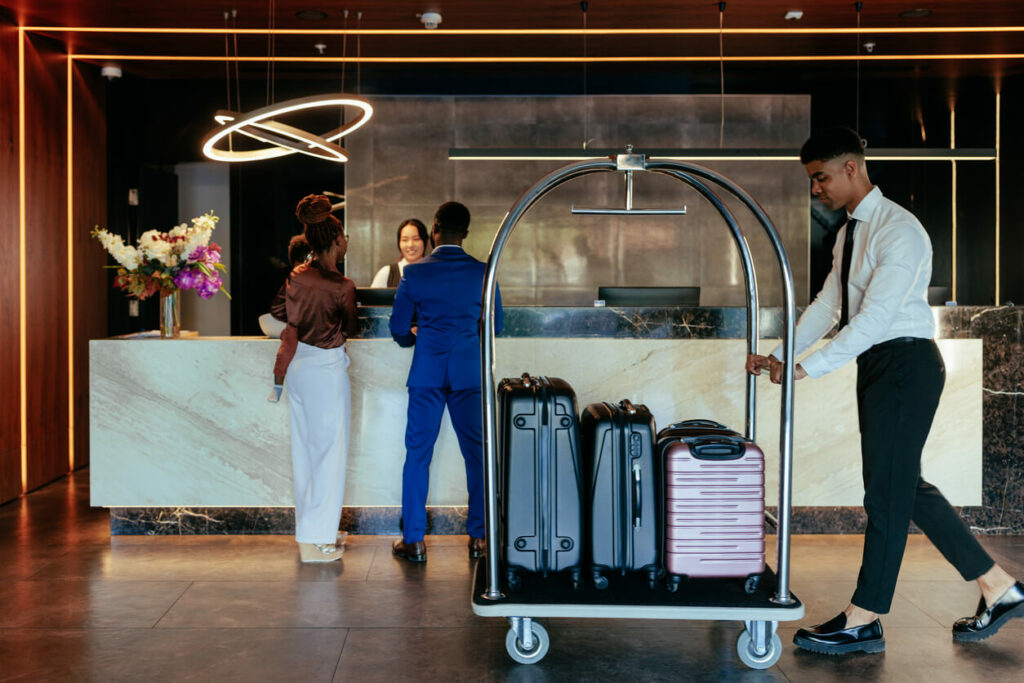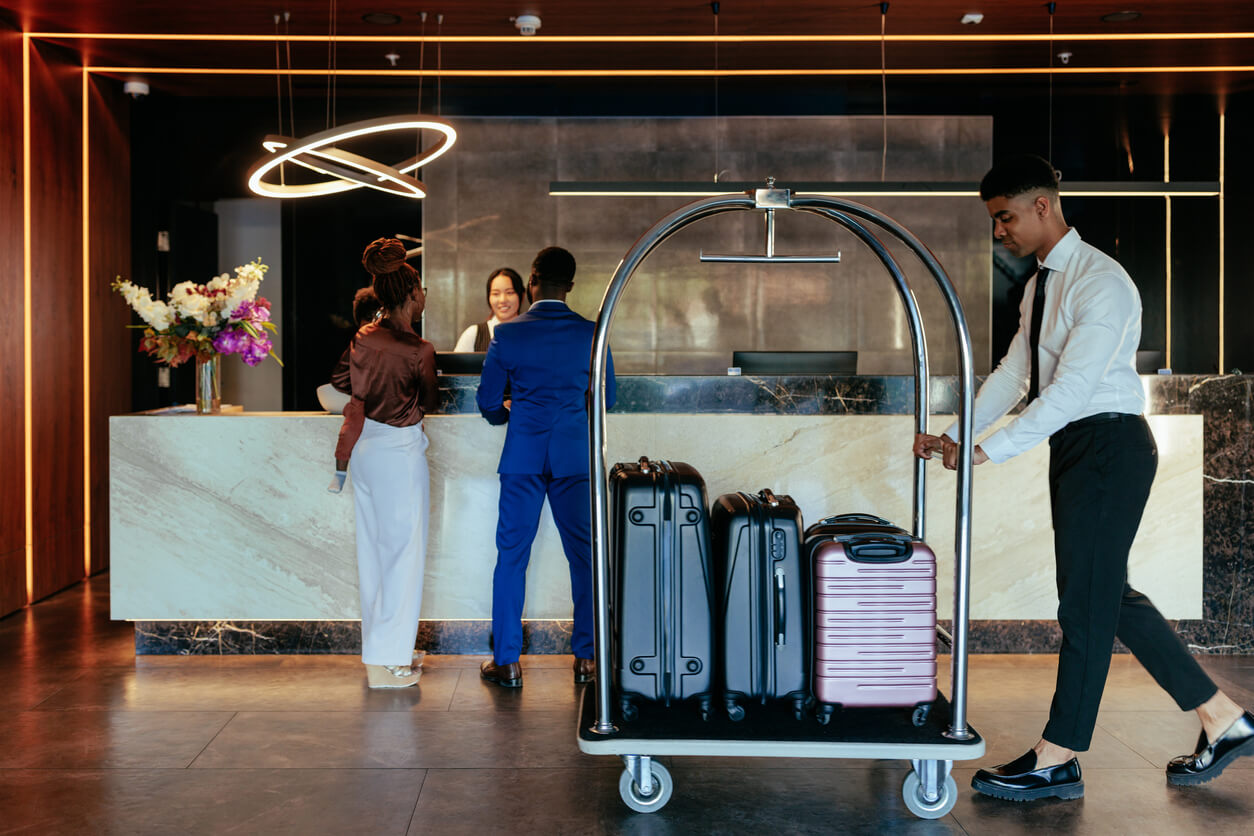 Offer help to arriving guests. You don't know how difficult or long their journey to your hotel might be and you should always offer a helping hand to make for an easy arrival. Give guests the choice to have their luggage taken directly to their rooms for them.
3. A light Welcome Snack or Drink
Like we said earlier you don't know how difficult your guests journey might have been and you want to offer warm hospitality to make for a warm welcome. Offering guests a complimentary refreshing beverage like flavored water, or seltzer along with something sweet like cookies or fruit helps the guest feel welcome and ready to start enjoying their stay.
4. Mobile Keys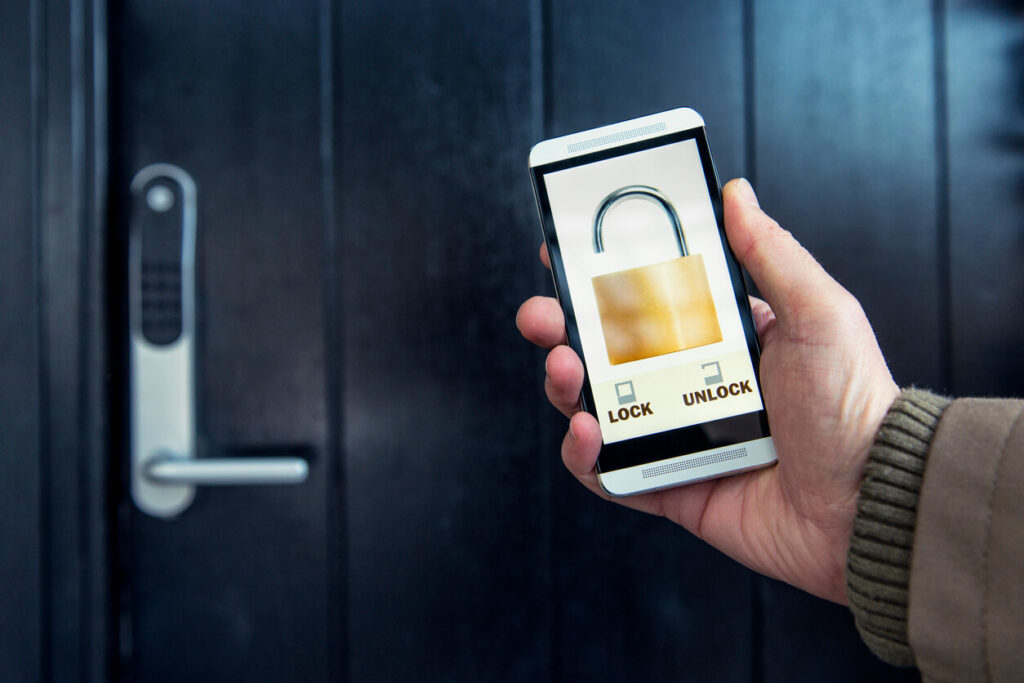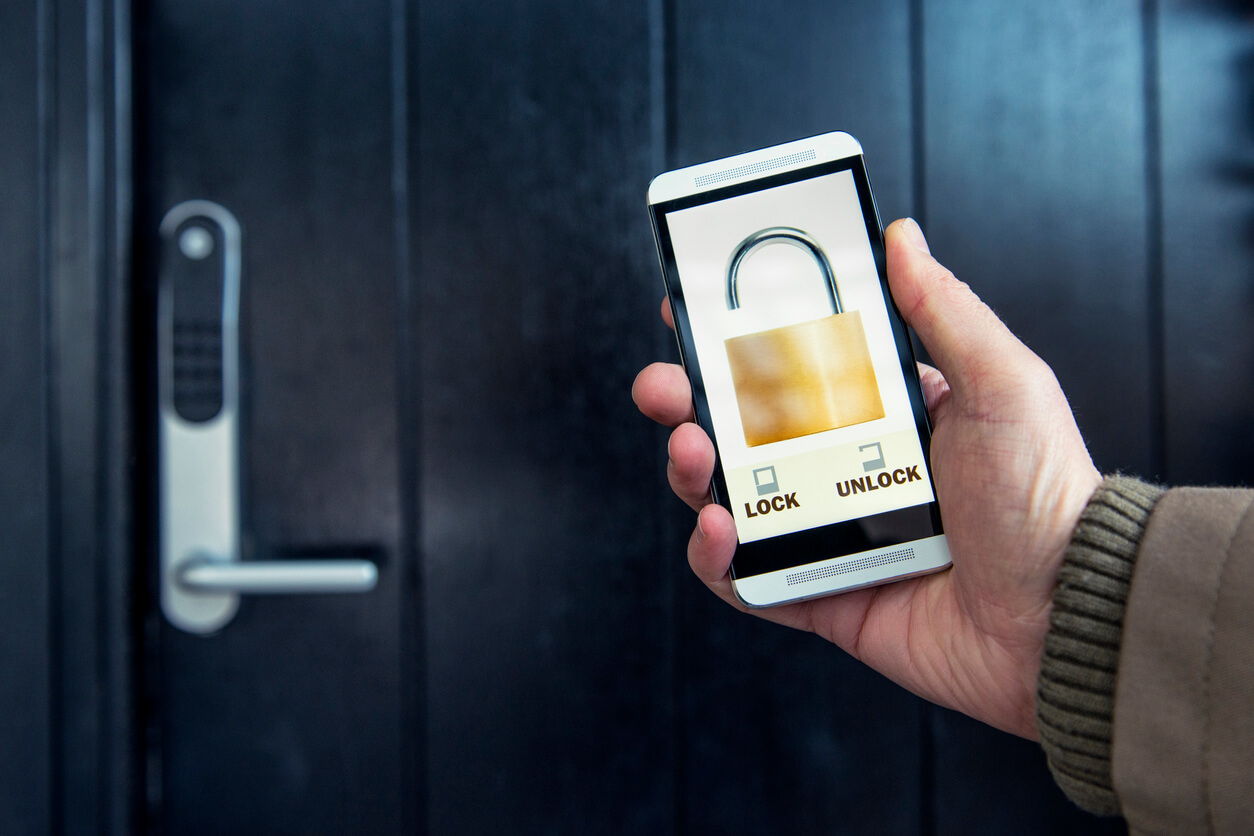 As technology in the hotel space is advancing we are seeing simplified ways to access room entry. This being mobile keys. Mobile keys allows guests to use their mobile devices as keys to their rooms and avoids issues like having to share keys, lose keys or wait to get access to their rooms.
5. Free Wifi
Wifi is a service that many people deem as necessary. Whether guests are out-of-state and don't have mobile or internet service or they are locals, free wifi is a basic amenity that all guests expect to have. Being able to work seamlessly and freely browse the web on their devices puts guests at ease.
6. Room Service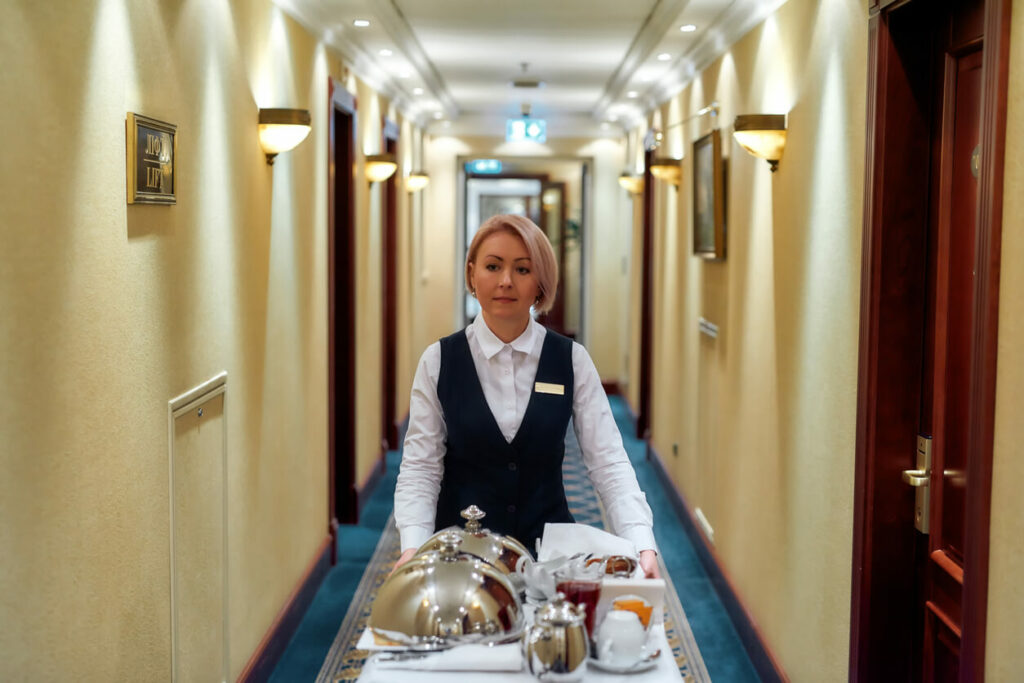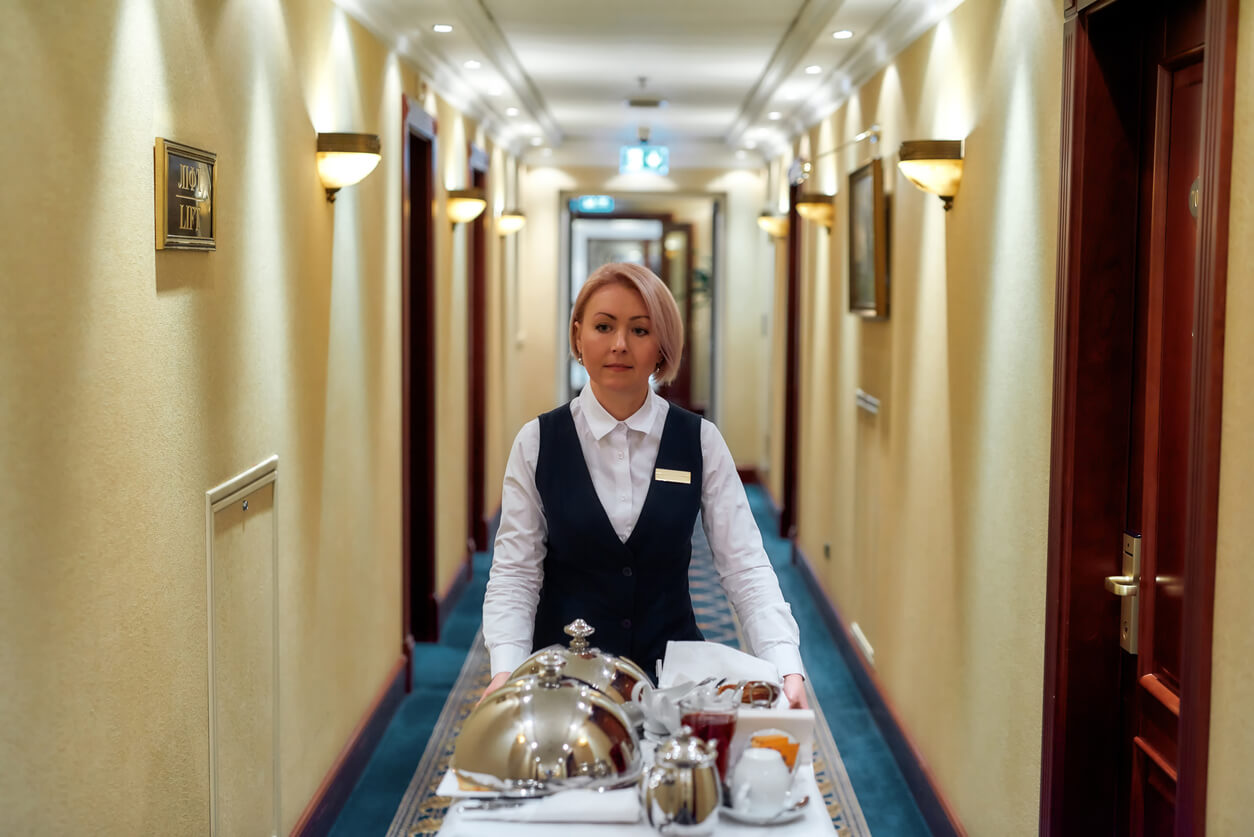 Offer guests Room service, like in-room dining. This is a great amenity since many guests might be unfamiliar with the restaurants in the area, or just too tired to venture out. Having a room service option makes dining simple, enjoyable and convenient.
7. 24-Hour Guest Reception
Always have someone available to your guests. You never know when your guests might need you, and having staff on hand to resolve any issues that arise quickly will help promote a successful guest experience. For example a guest's A/C unit might be faulty in the middle of the night causing them not to sleep, if there isn't available staff then guests would be frustrated for all hours of the night until staff arrives. Instead having someone respond to this issue at the exact moment it happens helps guests feel like they are in good hands and can continue to enjoy their stay.
8. Complimentary Toiletries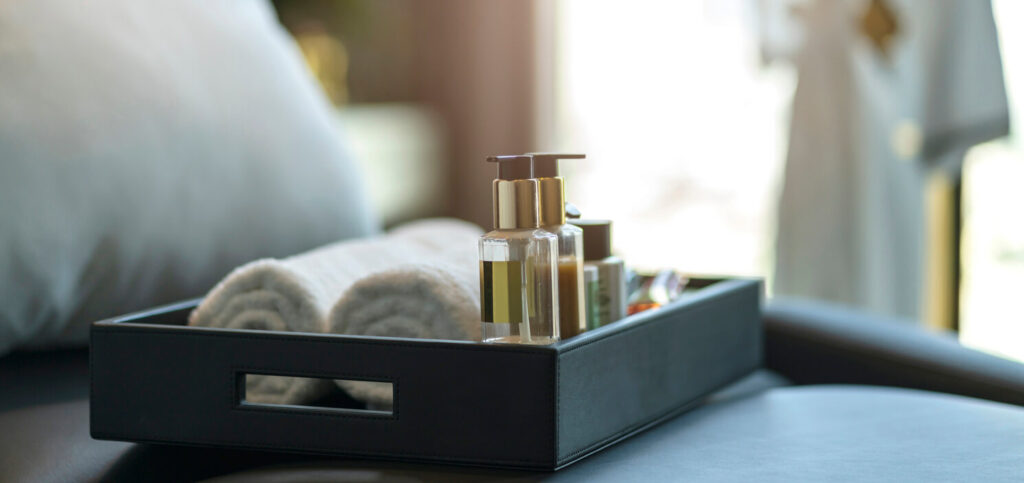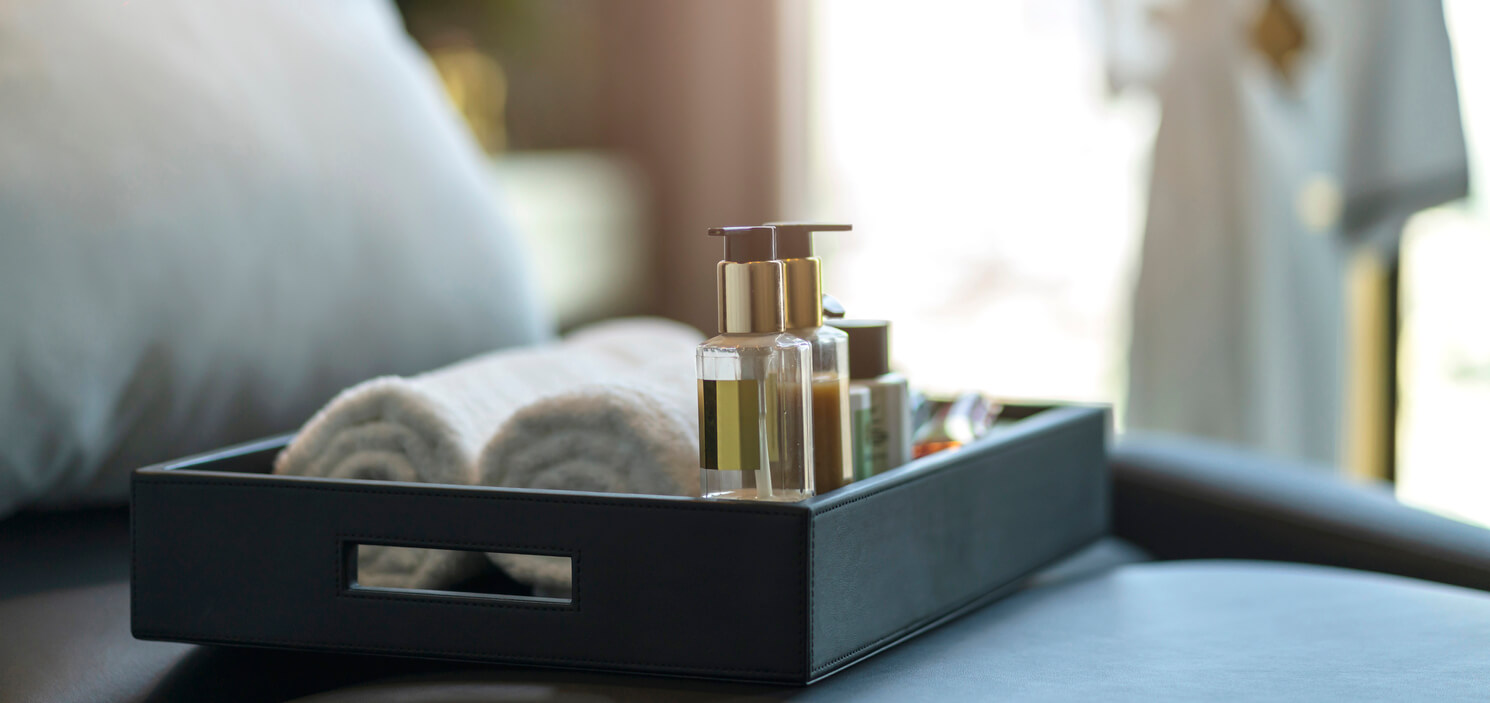 Toiletries like shampoo, conditioner, body wash, lotion, and even a dental kit promotes a high-end feeling and leaves guests the hassle of traveling with heavy toiletries. Be willing to refill any toiletries that have been used up by guests.
9. Breakfast
Breakfast at your hotel gives guests a tasty and good way to start their day. Offer a buffet style breakfast with optional addons and create an easy dining experience for your guests.
10. Concierge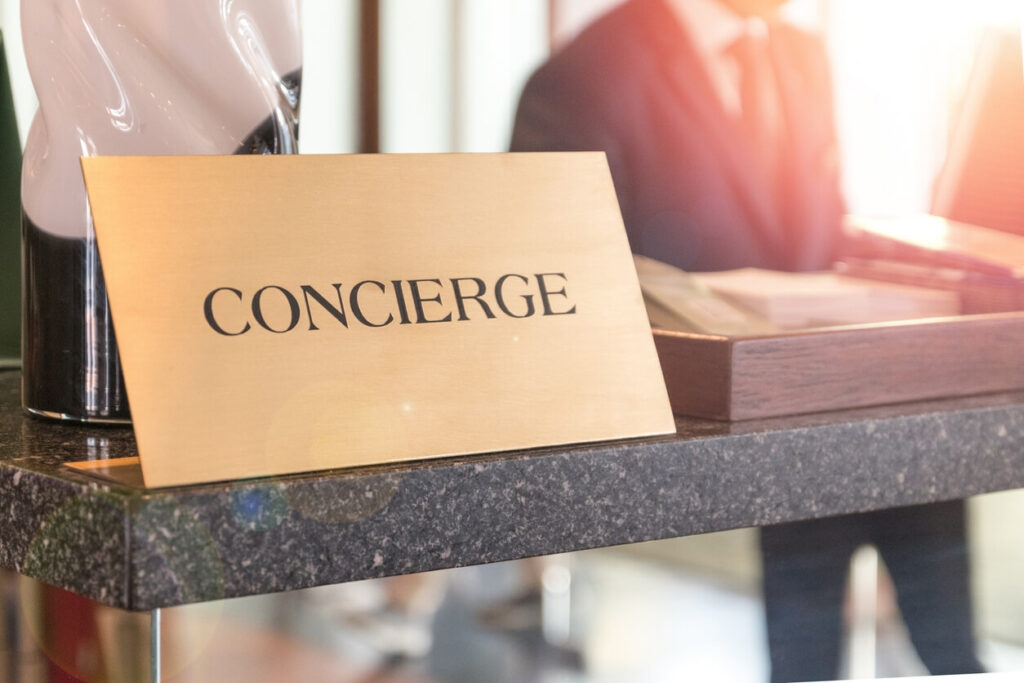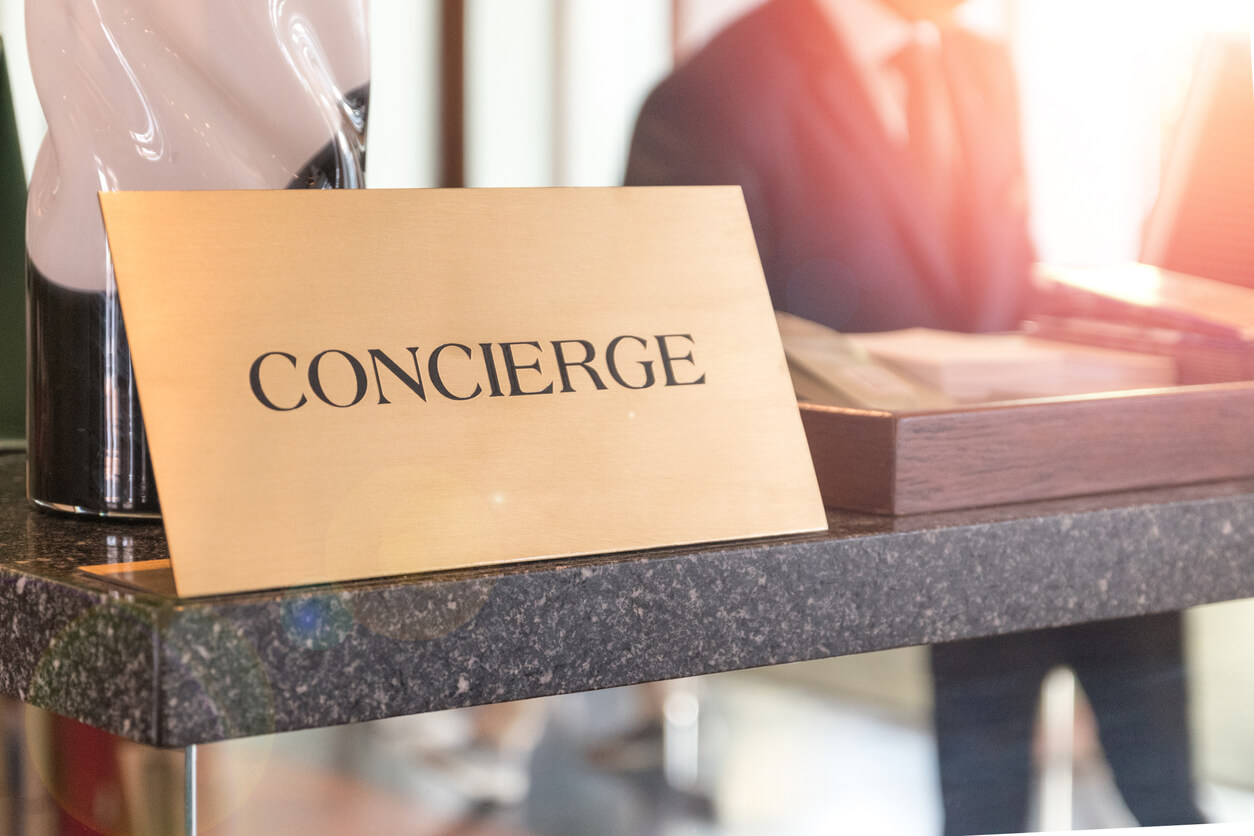 Having a well informed concierge gives guests the opportunity to know about all events, services, attractions and restaurants that they might enjoy. A good concierge helps guests book and reserve so that they can start enjoying simply and easily.
11. Ample Wall Outlets
Make sure to have enough wall outlets for guest electronics. Another tip is having global wall outlets that can help guests easily convert their electronic plugs. If you don't have a global outlet option, have converts on-hand for guests who ask.
12. Hair Styling Tools
Have hair dryers available in each bathroom. Hair Dryers are heavy and hard to travel with and therefore guests appreciate this option being offered.
13. Flexible Checkout
Give guests the option to delay checkout to best suit their timelines. Every guest has different travel times and being able to tailor checkout to accommodate them is a great way to improve their guest experience.
14. Pool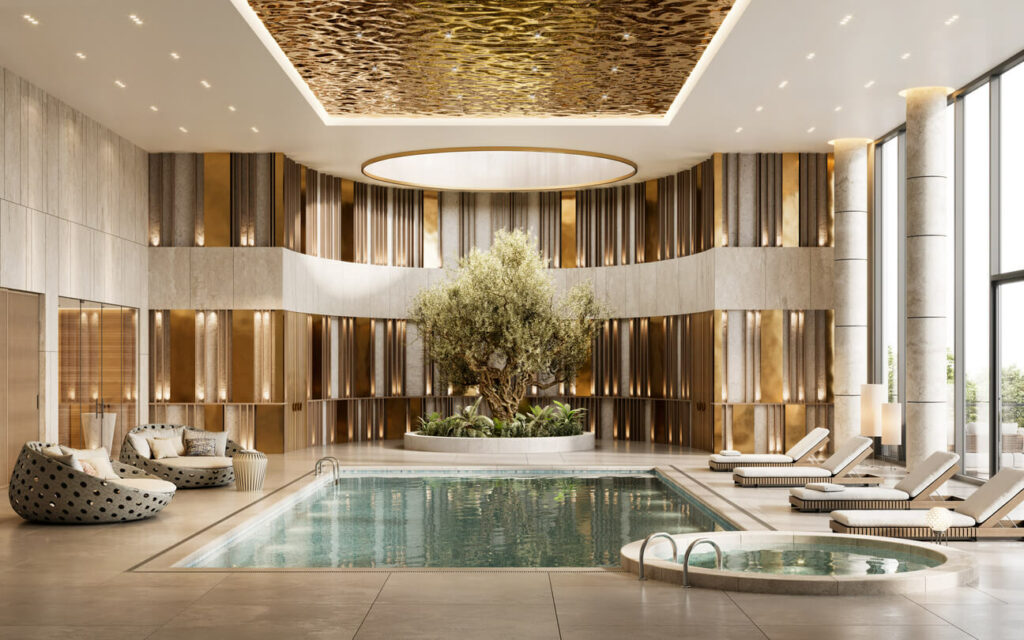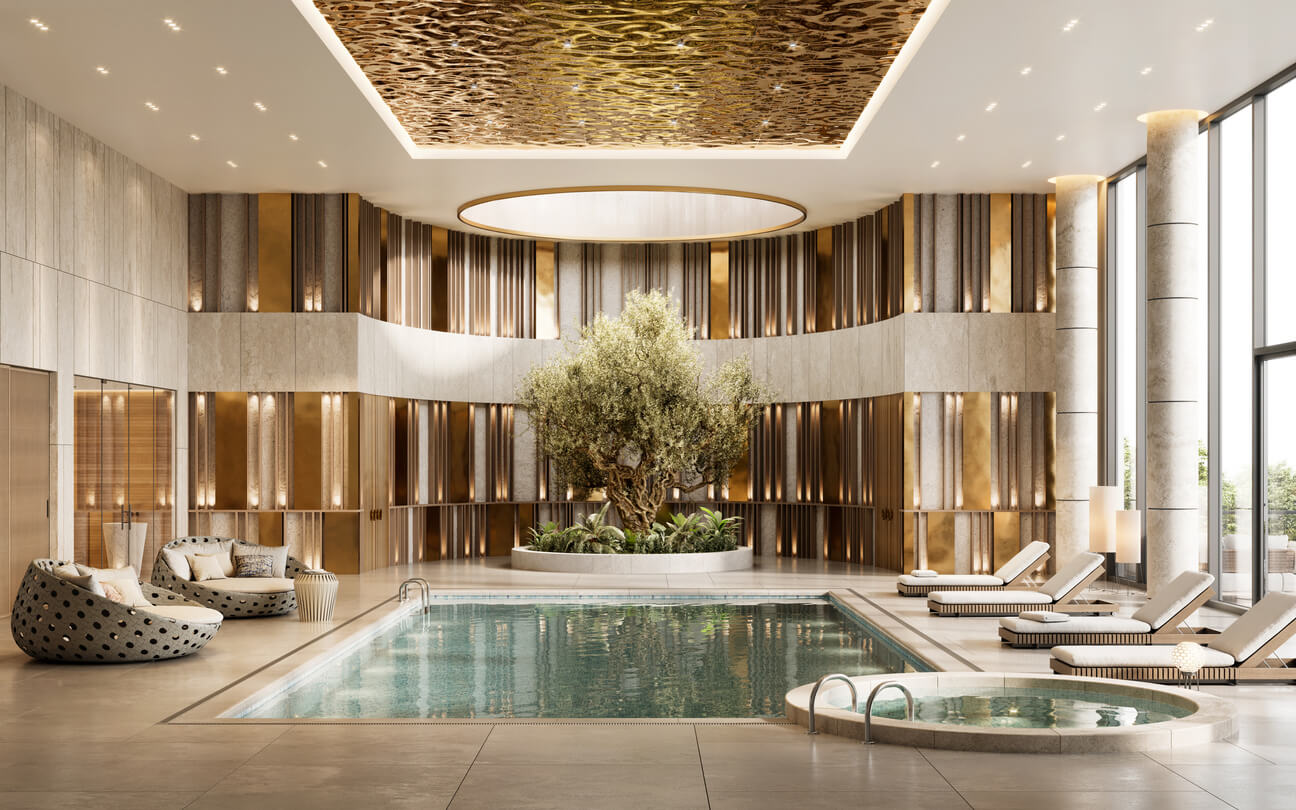 Depending on the weather and your hotel's location, offer an indoor or outdoor pool on your property. Usually guests coming to your hotel do not have this amenity at home and it gives them an enjoyable activity to help them unwind.
15. Mini-fridge
Having a mini fridge in guests rooms gives guests a place to store any food or beverages without it spoiling. This is also a good place to keep a mini bar or drinks that guests can purchase.
16. Complimentary Electronics Chargers
In case guests lose chargers for their electronic devices, offer chargers that they can use during their stay. This quickly eases their burden of worrying about losing power.
17. Clothing Iron
After packing and traveling clothes can get wrinkly and not be in great shape. Have clothing irons in rooms so that guests can touch up their clothing and look and feel their best.
18. Closet space and storage
Have a good amount of space for closets and storage where guests can keep all of their belongings when unpacking. Having space helps guests feel more comfortable and at home at your hotel.
19. Cleaning Service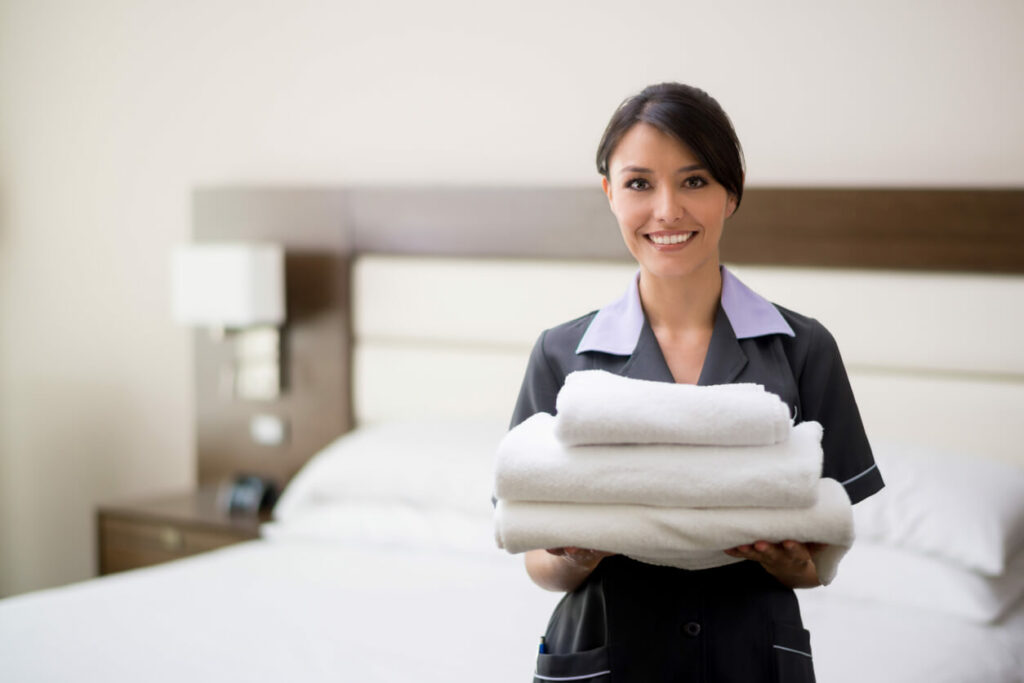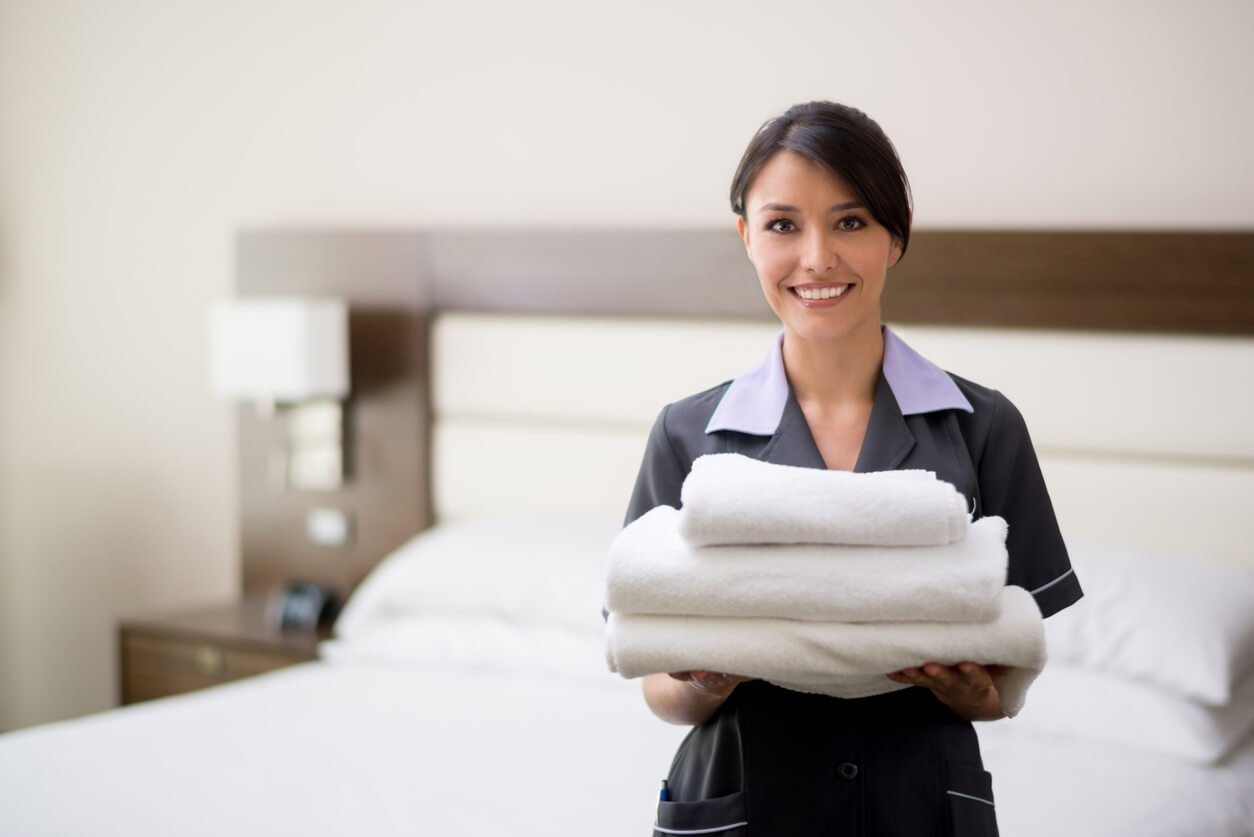 Daily cleaning is a main reason people love to stay in hotels. Offer cleaning services like new towels, making the bed, and taking out the trash at least once a day during guests stay.
20. Complimentary Water
Another nice touch is to leave 2 complimentary water bottles in the room daily (after cleaning services). Guests might become thirsty in the middle of the night or during a time where leaving their room is less convenient, so having water in the room is a great guest amenity.
21. Ice Machine
Have available ice machines, or ice that can be provided by room service so guests can enjoy their drinks the way they like.
22. Business Facilities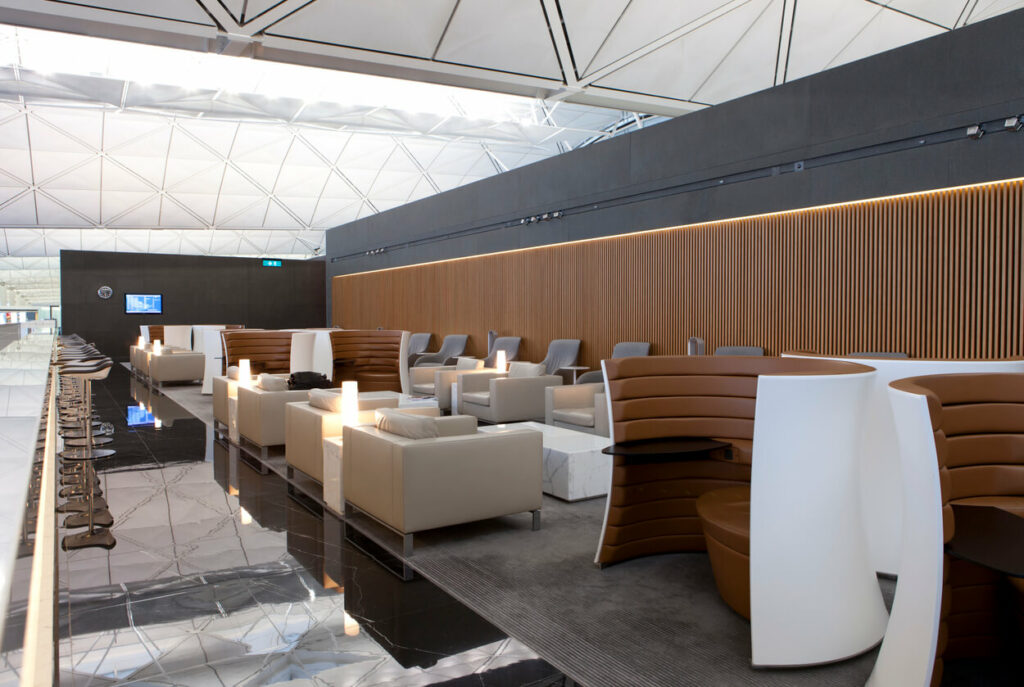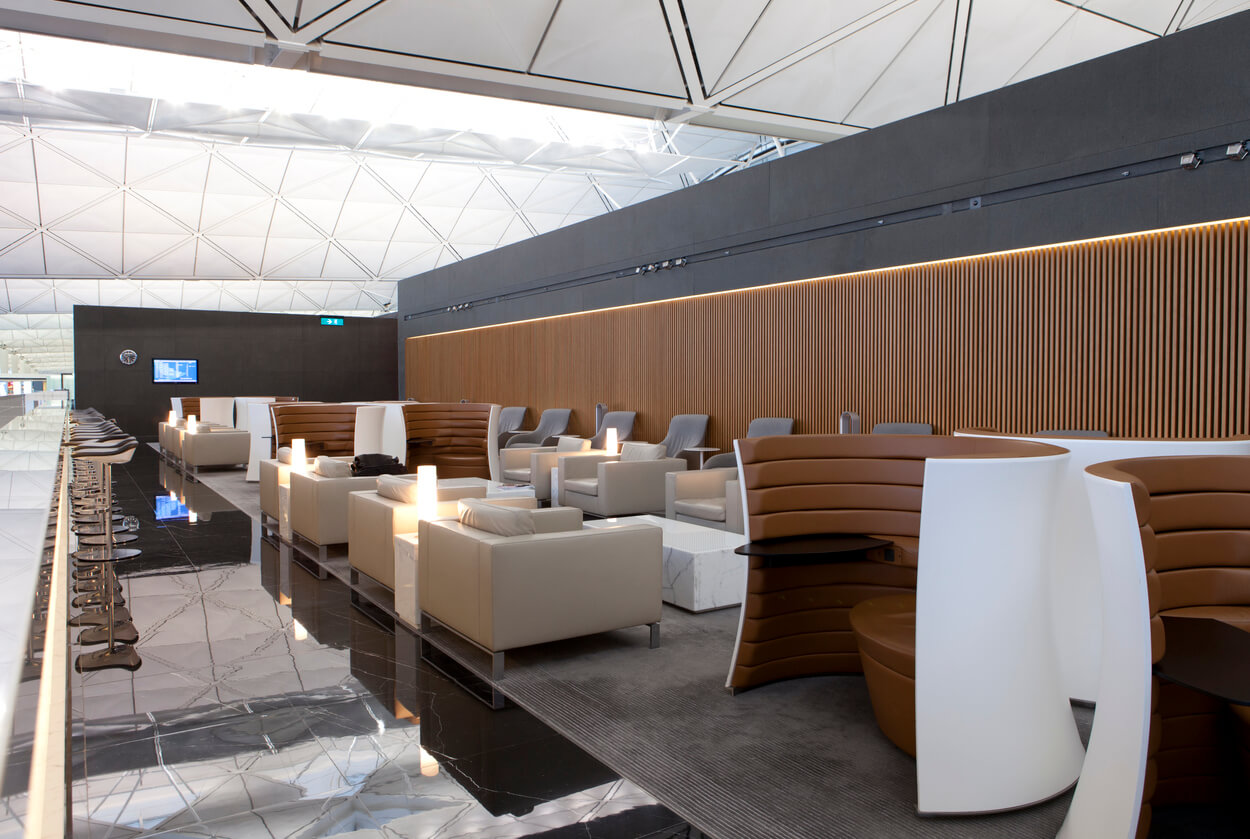 Have a business lounge on your property that has computers, printers, and a quite professional environment. This is great for business travelers or those who are on vacation but still need to get some work done.
23. Transportation Information
Provide guests with transportation information to anywhere they might be headed, even to your hotel! For example transportation to the airport, to the train station, to an event or tourist attraction, restaurants or exciting areas around your hotel.
24. Hotel Bar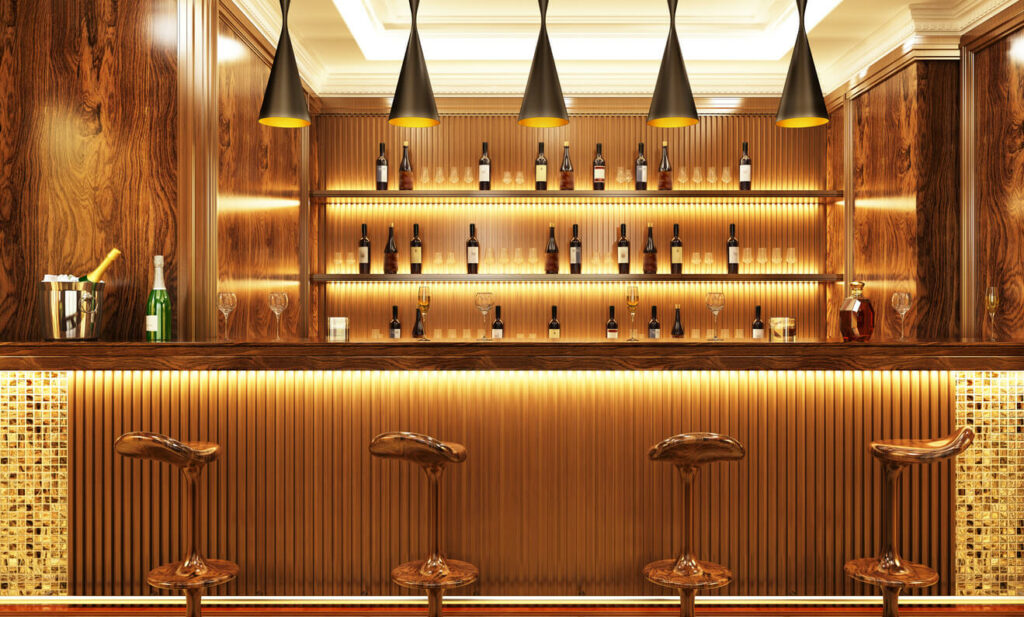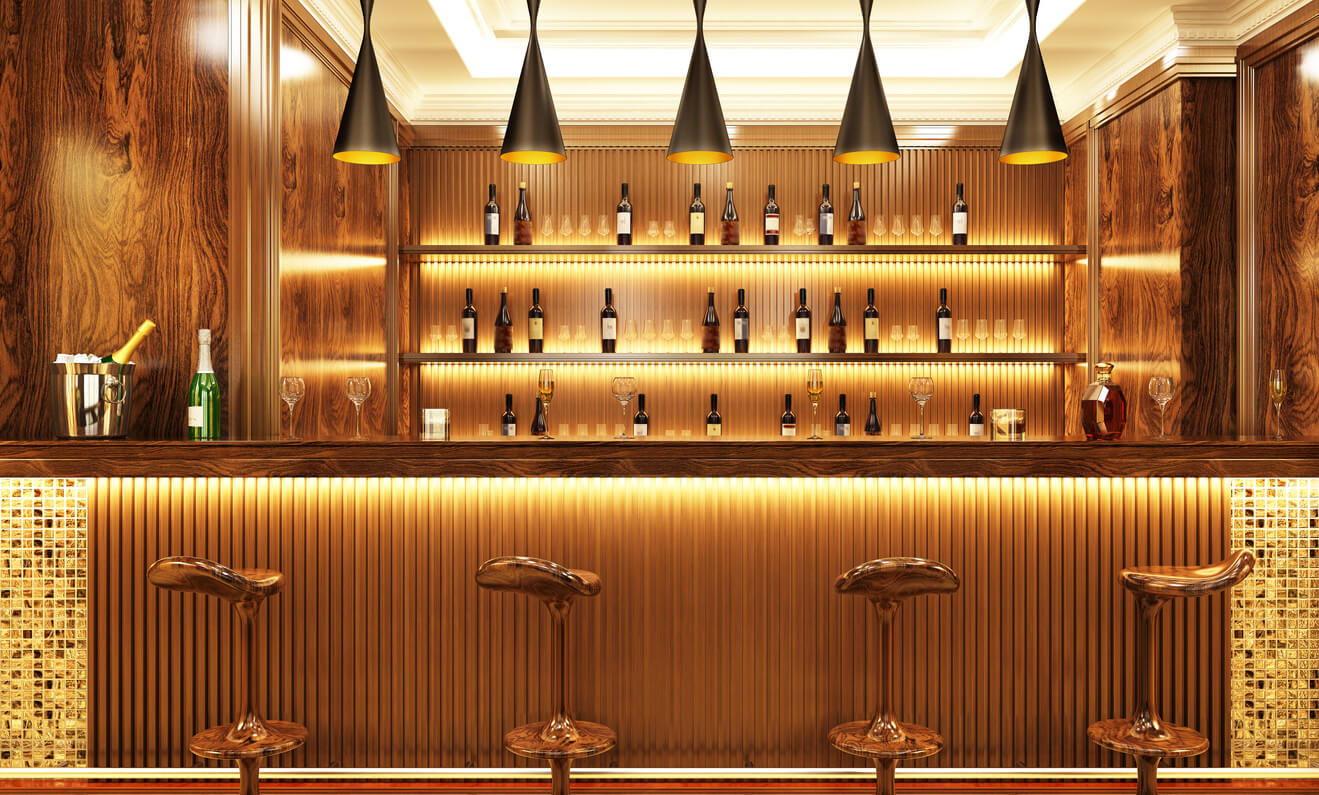 Give guests a place where they can unwind and enjoy some socializing around the bar. Offer unique cocktails and other drinks that might spark excitement for your guests.
25. Laundry Services
Provide guests with laundry services so that they can have clean clothes and feel their best. Guests might not have the time or the place to do their laundry so it is important to have this amenity.
26. Spa & Wellness Amenities
Have a spa and wellness facility on your property where guests can go to unwind. Offer services like sauna, jacuzzi, steamroom, massage, and facials. Many guests like to pamper themselves a little extra when on vacation so it is good to give them an easily accessible place to do this.
27. Exercise Facilities
Have a gym where guests can go to workout, and exercise. Make sure your gym is equipped with treadmills, bikes, weights and other basic gym accessories.
28. Daily Newspaper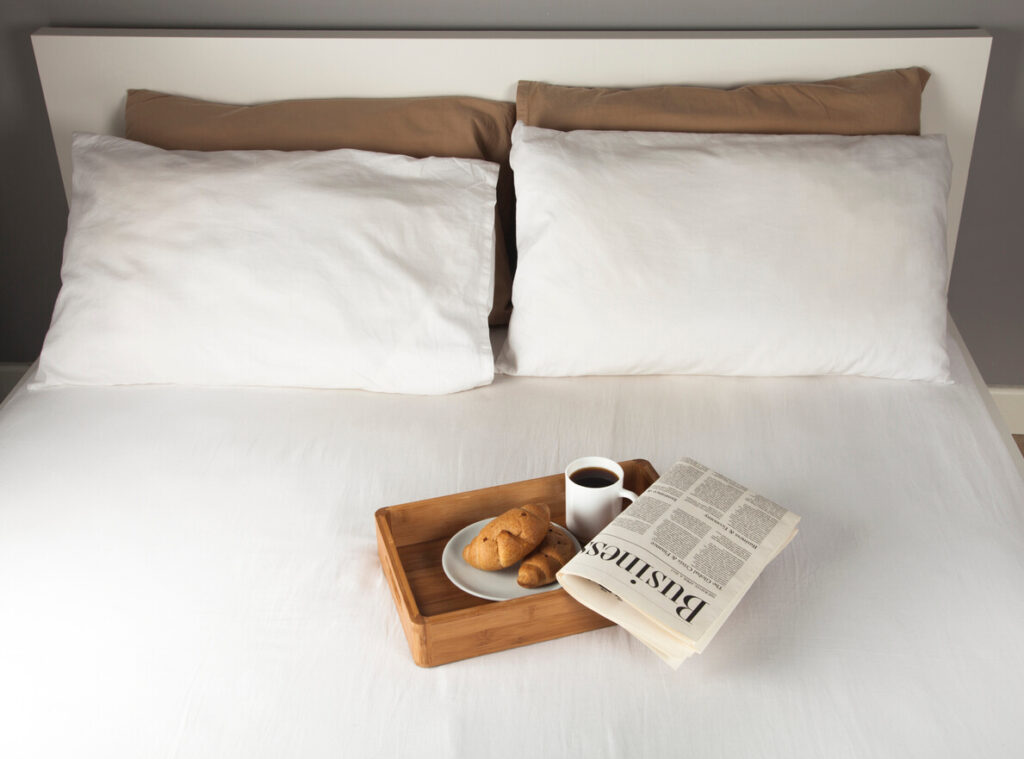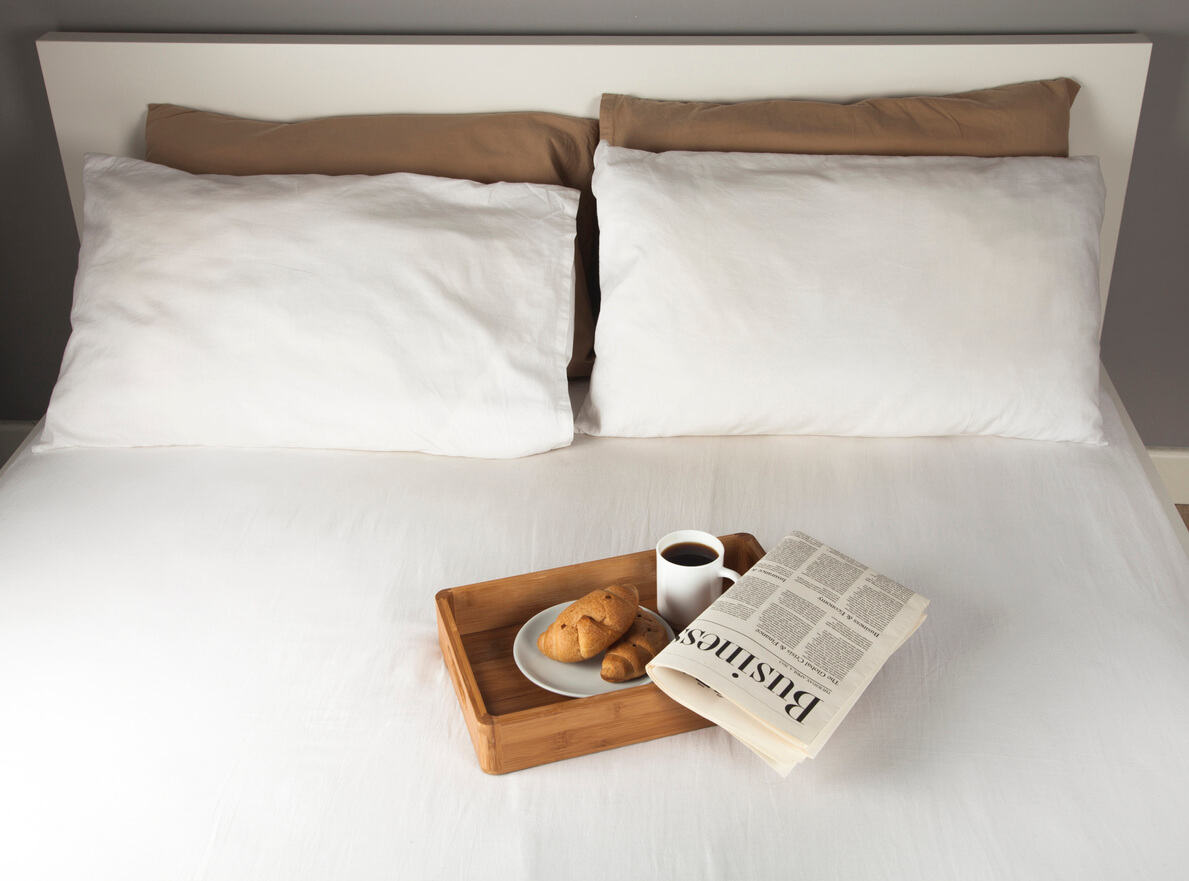 Have an accessible daily newspaper in the lobby where guests can have the option of taking a paper and staying up to date on the news.
29. Entertainment
Have amenities for entertainment like a gameroom, movie screening, or live band. Give guests a fun and exciting experience to liven up their stay at your hotel.
30. Complimentary Luggage storage
For guests who are checking in too early or want to store their luggage after checkout, offer a safe and secure place for them to store their luggage until they are ready to take them back. Be sure to label all stored luggage and give guests the matching labels for a smooth pick up experience.
31. Cribs & Cots for Children
For those who are traveling with children offer cribs and cots that are child-safe and convenient for families.
32. Custom Offers
Every guest is different, create tailor made offers that best suit them. For example a guest traveling for business purposes has different needs than that traveling with family for a vacation or guests traveling for a wedding anniversary. Offer services accordingly.
33. Curated Experiences
Built curated experiences for guests. This can be something like building an itinerary. For example a guest who wants a food experience might want your help to curate a culinary experience itinerary and tour.
34. Bathrobes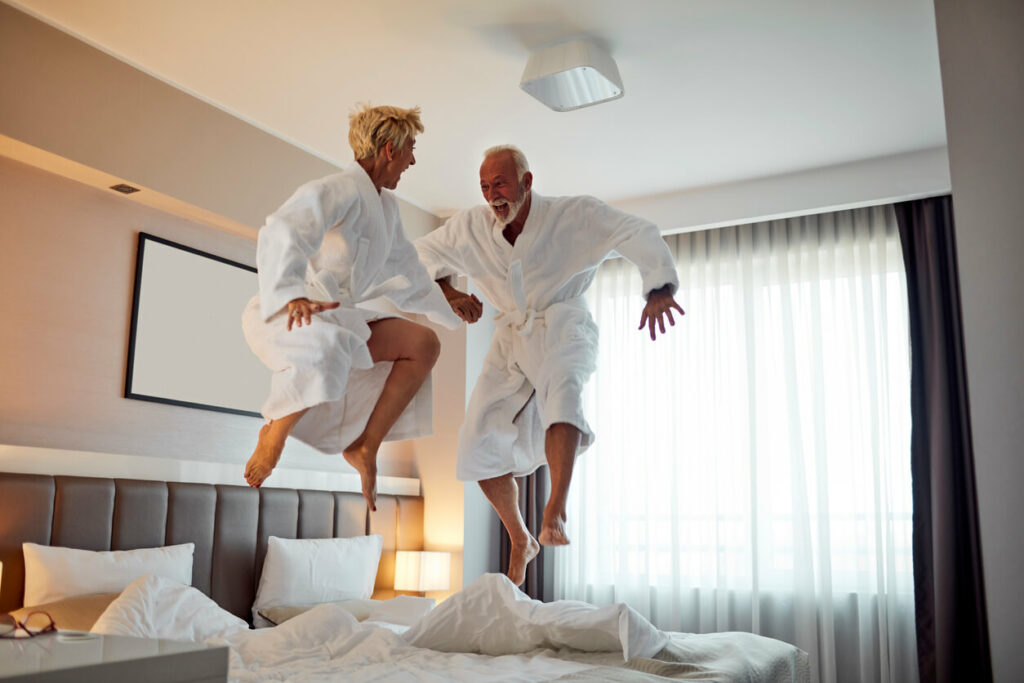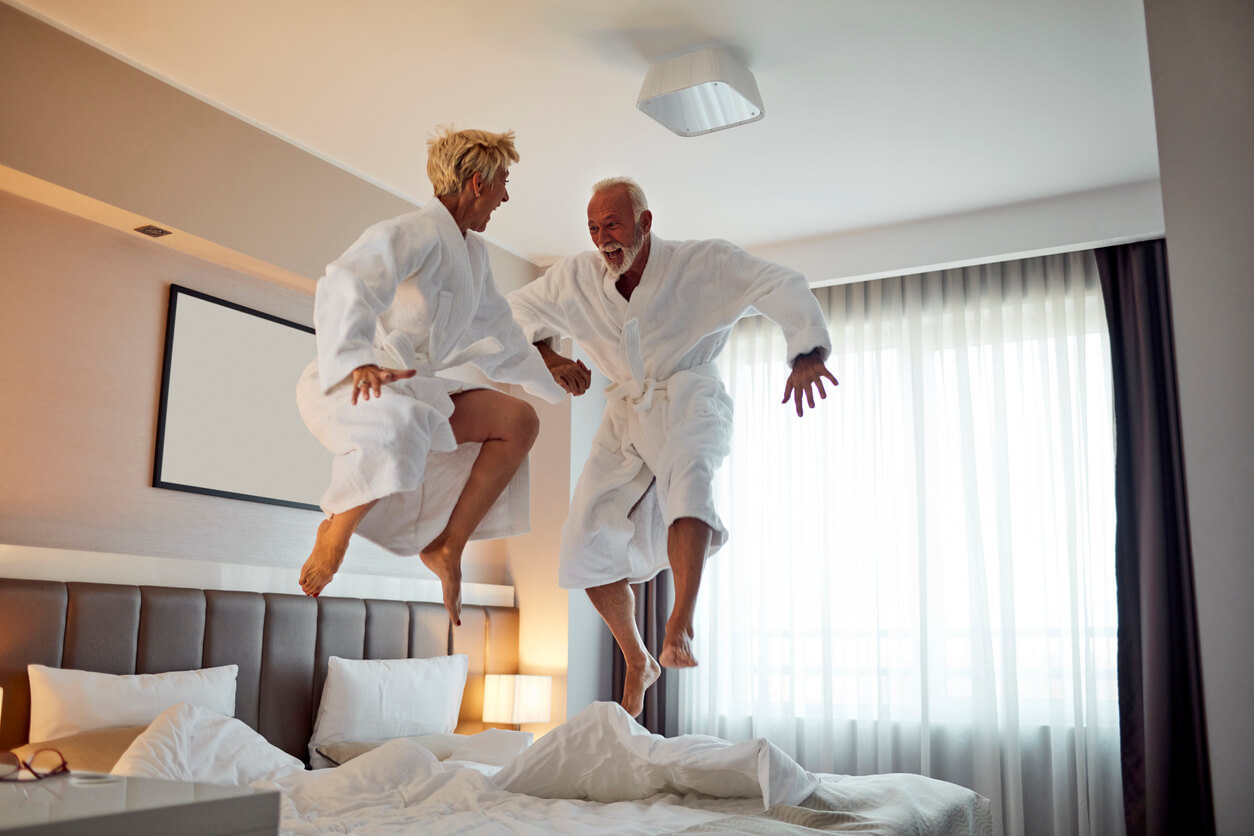 Give guests a feeling of luxury with bathrobes. Bathrobes are comfortable and give guests a wow factor.
35. Kid-friendly Rooms and Products
Offer kid friendly rooms and products by complying with extra kid safety. This can be having rounded furniture rather than corners, and limiting glass in the room.
36. Premium Bedding
Your hotel should feel like a comfortable place to rest. Having premium bedding that provides guests a comfortable sleep, is extremely important when it comes to amenities. Also keep in mind to have alternative blankets and pillows in case hotel guests request a different set.
37. Stain Remover Wipes
As guests are not at home, their clothing is limited. Have on hand stain remover kit to help guests remove any unexpected spills from their clothing.
38. Pet-friendly Rooms
Some guests do not have the freedom to leave their fluffy friends behind. Offer pet-friendly rooms so that their pets can come along to your hotel with them.
39. Mini Bar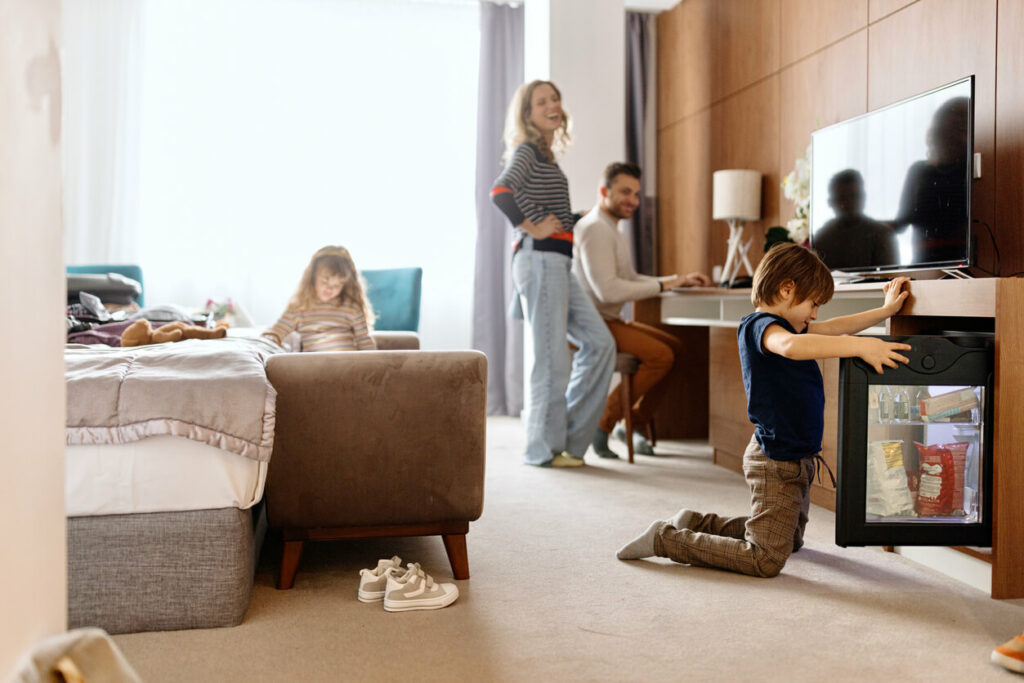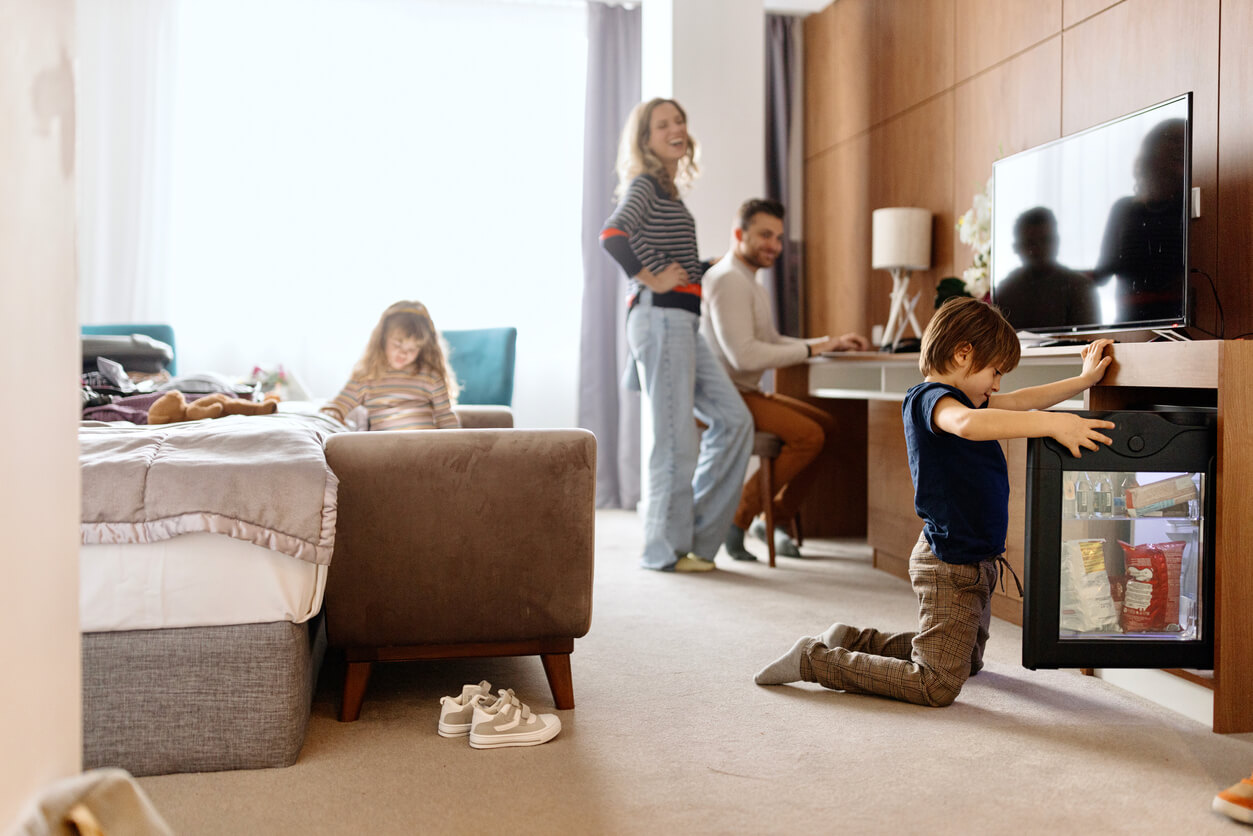 Add a mini bar to each room with beverages and snacks for guests to choose from. This adds an extra touch when guests are looking for something to munch on or quench their thirst.
40. Personal care items
Provide personal care items like combs, shaving cream, razor, shower cap, and a sewing kit. These are things that guests may forget to bring so it is helpful to them to provide it.
41. Library Lounge
Have a quiet place where guests can go to relax and read a book, or play a quiet board game. Having books and a calm environment for them to unwind.
42. Coffee Bar
Provide an in-room coffee maker, along with pods and creamer. Add some options for tea as well. Usually this is placed by the mini bar and gives guests the ability to make their own hot drinks.
43. Tissue box
Every hotel should provide a tissue box in the room and is good for guests to have.
44. Safe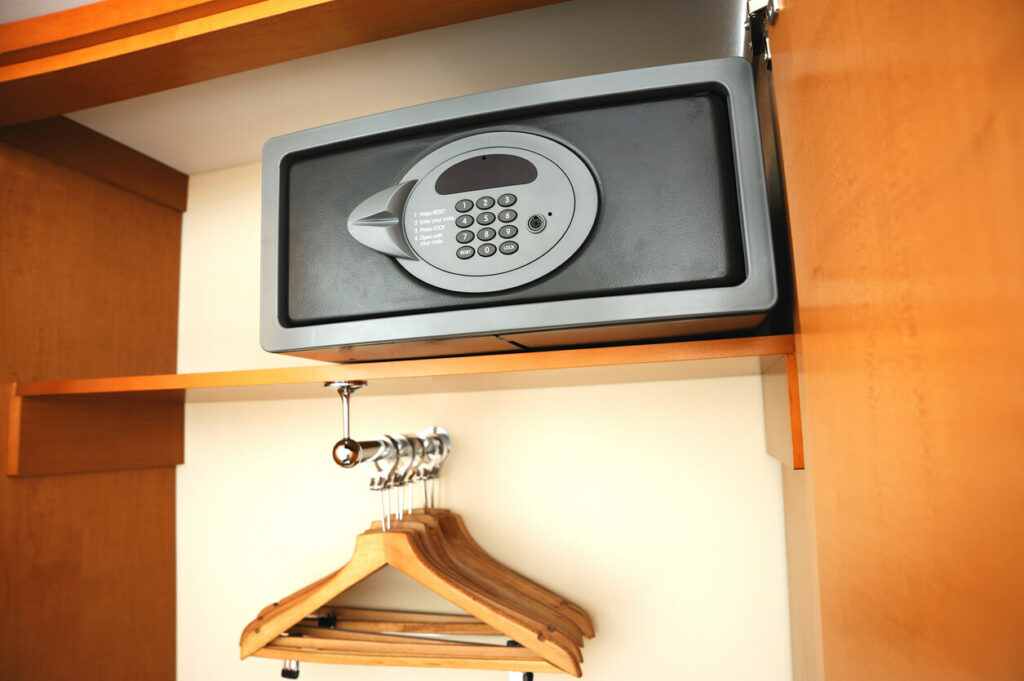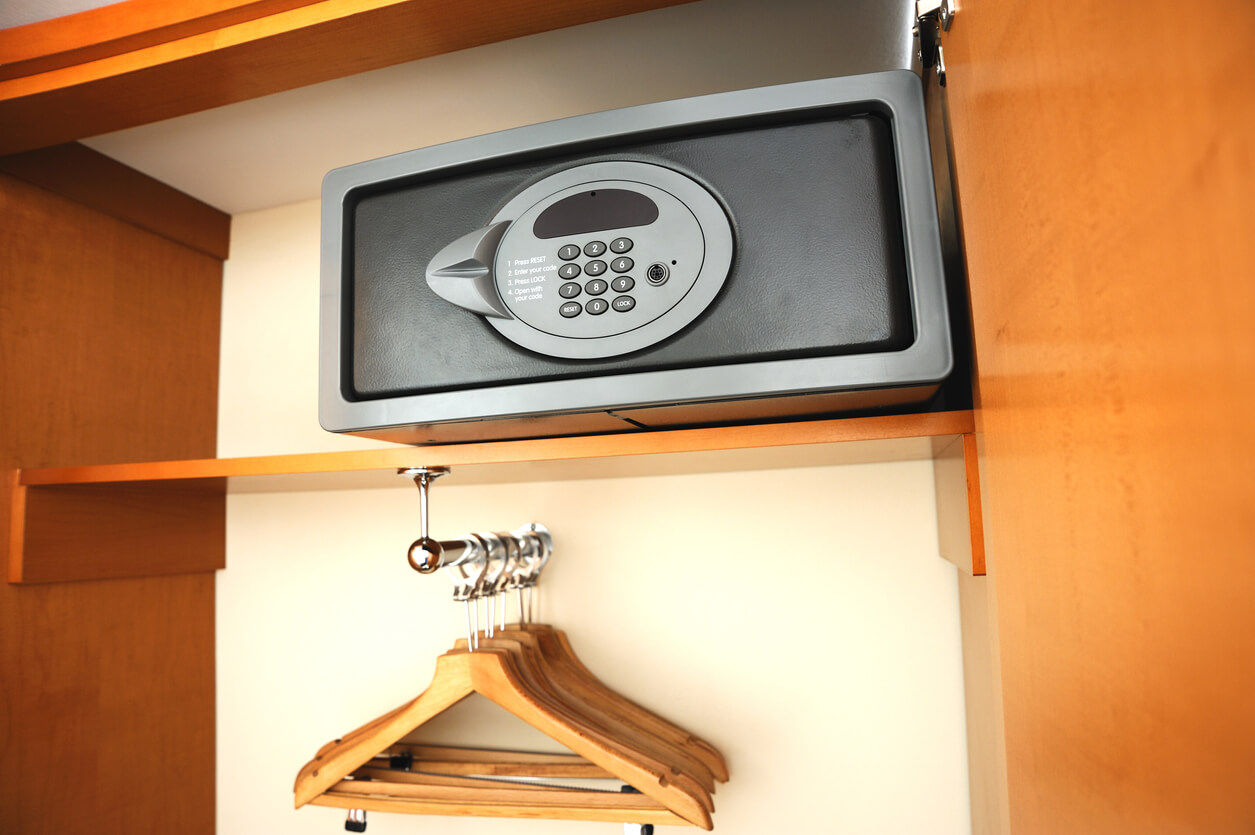 A safe should be in every room where guests can store any high value belongings such as jewelry, passports, electronics, etc. This gives guests a feeling of security when it comes to storing their things.
45. Mobile check-in
Don't want your guests to wait in line? Or your staff time to be taken up? Replace the out-dated check-in process to a mobile check-in process. This allows guests to check-in on their own time, before they arrive. By doing this guests can arrive at the hotel and stay enjoying their stay right away.
46. In-Room Tablets
Another way to upgrade your hotel amenities is with an in-room tablet. Digitize all of the paper documents that would usually be in the room into a compact tablet that holds it all. Things like the room service menu, contact information, attractions/sites in the area, hotel amenities and way more. Everything can be viewed directly on the tablet.
47. Smart Television
Install a smart TV in every room of your hotel. This way guests can watch their favorite shows and movies on their platform of choice. Today many people prefer watching Netflix or Amazon Prime over broadcast TV, so it is important to offer both.
48. Dining experience
Having a high-quality restaurant at your hotel gives you a competitive edge and provides guests a culinary experience on your property. It is not only convenient for guests, but also builds brand image and quality.
49. Transportation arrangements
Be able and available to arrange transportation for guests. This includes calling cabs, or vans that will be on time to pick up guests and take them to where they need to go.
50. Use a Guest App
We saved the best for last–use a guest app! A good guest app provides both guests and hotels with everything they might need during their stay. It helps staff give customized suggestions and upgrades based on each guest's needs and also helps provide online check-in/check-out, mobile keys and easier communication. It is basically the one-for-all amenity that every hotel should have.
A guest app is also completely branded to your hotel and helps promote trust and brand awareness with your guests.
If you want to exceed guest expectations and stay above the competition in 2023 and beyond, then consider adding any of these missing amenities to your property.