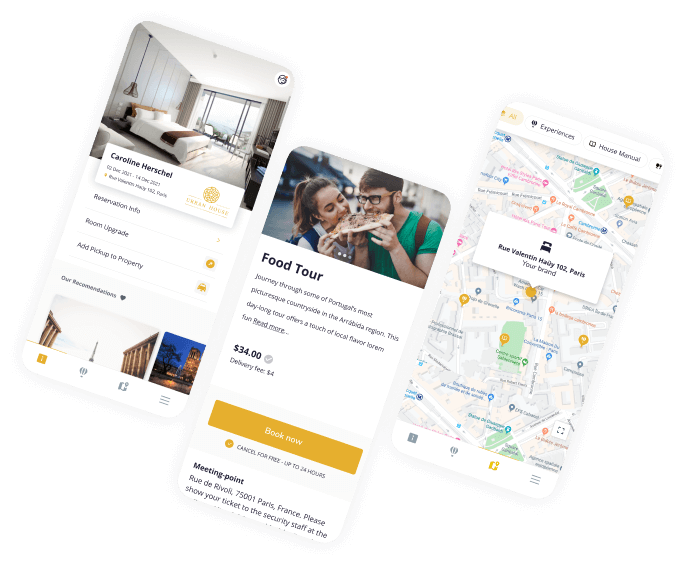 The hospitality industry is one of the most dynamic and highly competitive industries in the world.
One of the biggest challenges facing the hospitality industry is the constantly changing nature of customer expectations. Customers today are looking for unique experiences and personalized service, which can be difficult for hospitality providers to deliver consistently. Additionally, labor shortages and turnover rates have made it difficult to attract and retain quality staff, leading to inconsistent service and increased operational costs.
To overcome these challenges, hospitality providers must be innovative and adaptable in their approach in order to provide a better guest experience. One way to do this is by offering a guest app, no download necessary, that assists guests with everything they might need throughout the entire guest journey.
A guest app provides guests with information, services, and a completely enhanced experience during their entire stay. Guest apps have become increasingly popular in recent years, and for good reason. In this blog, we will explore the top benefits guest apps provide for hotels and other hospitality businesses.
Your guests deserve the best guest app!
Here are the top 5 benefits of utilizing a guest app
1. Enhanced guest experience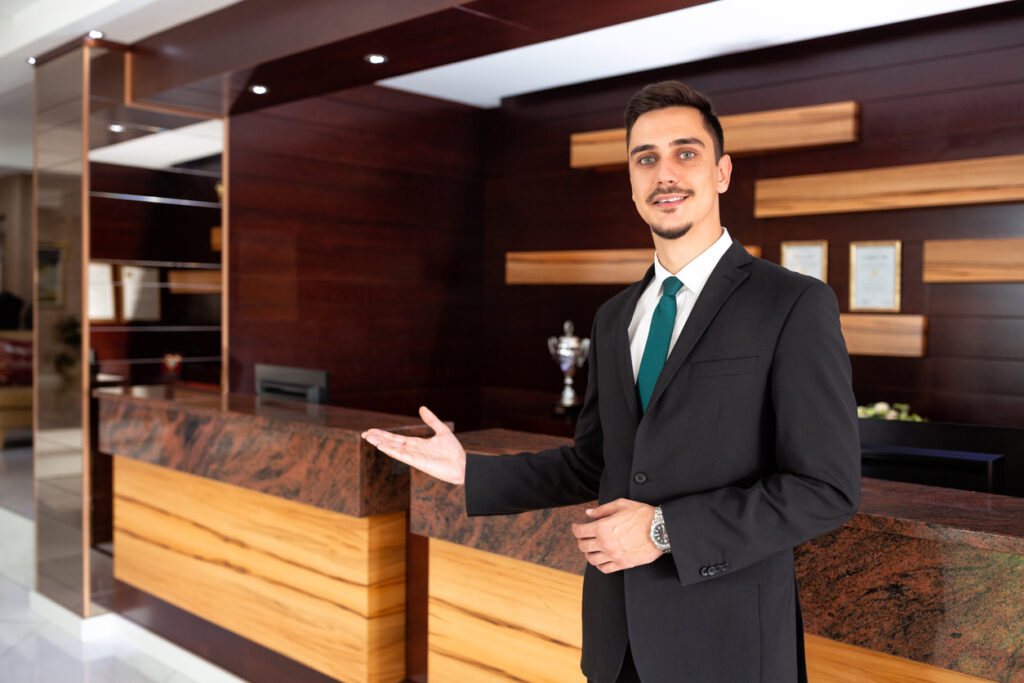 A guest app provides guests with easy access to information and services related to their stay, making their experience more convenient and enjoyable. Guests can use the app to book rooms, check-in, order room service, make restaurant reservations, request housekeeping services, and more. Having all these services at their fingertips through a single app reduces the need for guests to call the front desk, wait in line, or navigate through a complex website.
Guest apps can also provide personalized recommendations and promotions based on the guest's interests and preferences. For example, if a guest has previously booked spa treatments, the app may suggest similar services that they may be interested in. This can help improve the guest's experience and increase their satisfaction with the hotel.
This convenience enhances the overall guest experience, making them more likely to return and recommend the hotel to others.
2. Increased revenue
Guest apps can also help hotels increase revenue by offering guests easy access to customized upsells for additional services and amenities. For example, hotels can promote ancillary services like spa, local tours, and other activities through the app, increasing the chances of guests booking these services.
Hotels can also use the app to offer personalized promotions and discounts based on data collected of a guest's previous stay history, increasing the likelihood of repeat business.
Additionally, guest apps can be used to upsell guests on room upgrades, late checkouts, and other premium services, generating additional revenue for the hotel, which improves the hotel's profitability and overall financial performance.
The perfect guest app for the perfect guest experience
3. Improved operational efficiency
Guest apps can help hotels improve operational efficiency by reducing the workload of front desk staff and other employees.
By using a guest app guests can check-in and check-out on their own with their mobile device. They can also request services like house keeping, maintenance, directions, reservations and way more. A guest app also automates tasks like making payments which means that hotels can reduce the time and resources needed to handle these tasks manually.
This also reduces the chances of errors and miscommunications, which can lead to a better overall guest experience.
4. Enhanced communication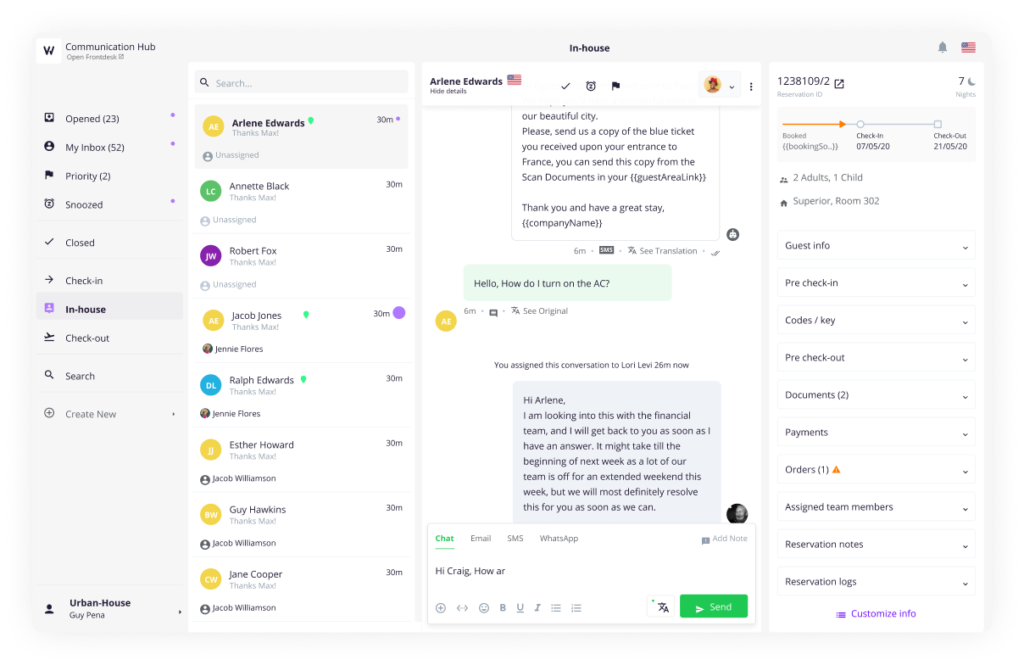 Guest apps can provide hotels with a direct line of communication to guests, allowing them to send messages real-time. No matter which way a guest prefers to communicate (whatsapp, email, sms, etc.) all messages are streamlined into the guest app and can be responded to in the same place.
This means that guests can ask questions or make requests in real time, and hotel staff can respond quickly and efficiently. For example if a guest is lost and wants to find their way back to the hotel, all they need to do is message the hotel via their mobile device, and a staff member will quickly send a map or information of how to get back to the hotel.
Hotels can also send notifications about events happening at the hotel, promotions, and other news related to the hotel or local area to keep guests informed and engaged during their stay, improving their overall experience. Hotels can also use a guest app to request feedback and reviews from guests, providing valuable insights to improve operations and service in the future.
5. Increased loyalty
Guest apps can help hotels increase guest loyalty by keeping track of guest data and providing a personalized and convenient experience. By understanding guests and always providing their preferred services, hotels become more memorable and therefore guests become more loyal. For example if you know that a guest usually requests a certain type of pillow, having this pillow already in their room upon arrival for their next visit makes the guest feel remembered, valued and more likely to come back.
A guest app helps hotels offer guests the most personalized promotions, recommendations, and services that best meet their needs and make guests feel appreciated.
In addition, by providing a seamless and convenient experience, hotels can improve the likelihood of repeat business and positive reviews. This, in turn, can lead to increased word-of-mouth referrals and a stronger reputation in the industry.
In conclusion, guest apps provide a range of benefits for hotels and other hospitality businesses, from enhancing the guest experience to improving operational efficiency and increasing revenue. By investing in a guest app, hotels can stay competitive and provide a personalized and seamless experience for their guests, which can lead to an enhanced guest experience, increased revenue, improved operational efficiency, enhanced communication, and increased loyalty.
The future of hospitality in the palm of your hand today!