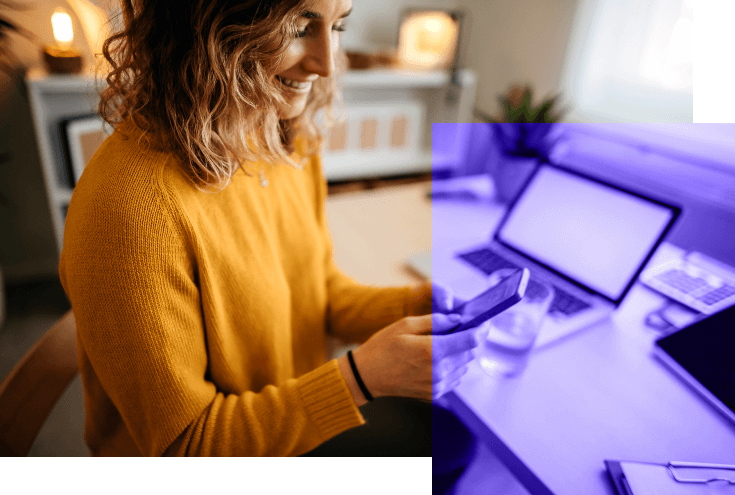 Establishing strong relationships with guests is essential for hotels looking to enhance guest satisfaction and promote repeat business. However, building and maintaining these relationships can be challenging, especially after guests have checked out of the hotel.
The benefits for a good hospitality guest experience are enormous. Investing in a positive guest experience with good guest relationships can lead to:
Increase in Guest Loyalty
By building relationships with guests, hoteliers can establish a sense of loyalty between the guest and the hotel. Hotels can also set up loyalty programs that increase the likelihood of returning. Loyal guests are also more likely to recommend the hotel to others and choose it as their preferred accommodation option in the future.
Increased Upselling
Having ongoing relationships with guests also allows hotels to collect data unique to each guest and better understand what guests are more likely to want. This means hotels can recommend customized upsells based on preferred amenities and services, which can enhance the overall guest experience.
All your guest communication needs in one place!
Valuable Feedback
Establishing relationships with guests can also provide valuable feedback for hoteliers. This feedback can be used to identify areas for improvement and to make changes that will enhance the guest experience.
How to Improve Guest Relationships During Their Stay and After Check-out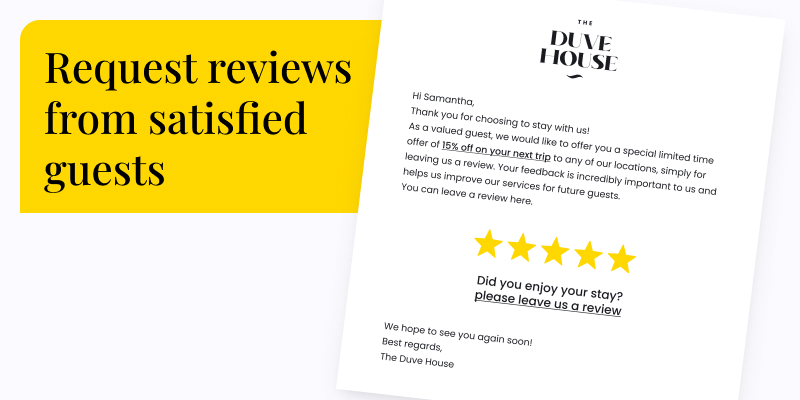 Personalize the Guest Experience:
One effective way to build a stronger relationship with guests is by personalizing their experience. This can be done by collecting information about their preferences and using that information to tailor their stay to their needs.
Use Technology to Stay Connected:
Technology can be a powerful tool for staying connected with guests after their stay. This can include sending personalized messages and promotions via email, social media, or messaging apps.
Encourage Feedback:
Encouraging feedback from guests is an essential part of building a stronger relationship with them. This feedback can help hotels identify areas for improvement and make changes that will enhance the guest experience.
Follow Up Post-Stay: Following up with guests after their stay is a great way to show that their business is valued. This can include sending a thank-you message, offering promotions for future stays, or simply checking in to see how their experience was.
Provide Exceptional Customer Service:
Providing exceptional customer service is key to building stronger relationships with guests. This can include going above and beyond to meet their needs, resolving any issues or concerns they may have, and making them feel valued and appreciated.
Some Challenges Hoteliers Face
Despite the importance of building relationships with guests, hoteliers face several challenges in doing so. These challenges include:
Difficulty Staying in Touch: With the proliferation of social media and other communication channels, it can be challenging to stay in touch with guests after their stay. This is especially true when guests are from different countries and speak different languages.
Low Response Rates: Even when hoteliers are able to reach out to guests post-stay, they may not receive a response. This can make it difficult to establish a relationship and receive feedback from guests.
Lack of Information: After guests leave the hotel, hoteliers may not have access to all of the information they need to address any concerns or issues that the guest may have had during their stay.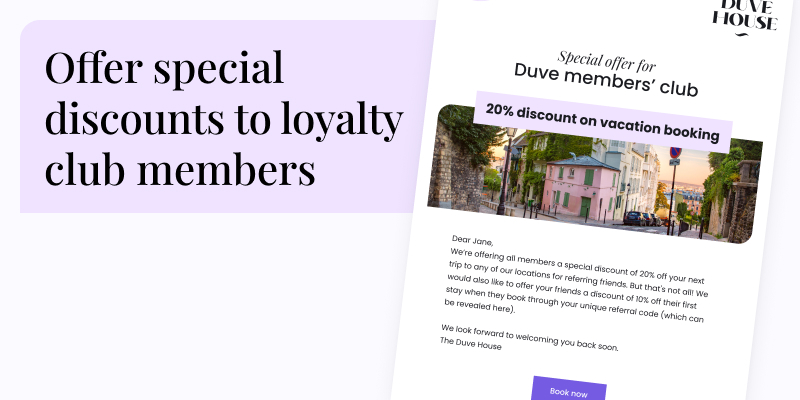 To overcome these challenges, hoteliers must be proactive in their communication with guests post-stay. This may involve using a variety of creative communication like incentives for guests to provide feedback, or promotional emails with members and other exclusive discounts. By building relationships with guests post-stay, hoteliers can establish a loyal customer base and enhance the guest experience. This is now made even easier with Duve, a guest experience platform that provides hoteliers all of these capabilities.
Duve Announces the Launch of Advanced Marketing Capabilities to Foster Post-Stay Guest Experience for Hoteliers
Duve is the leading guest experience platform of 2023 based in Tel Aviv and has just announced the launch of its latest advancement in guest experience management – email marketing capabilities with smart segmentation and scheduling. This new feature represents a major enhancement to the guest experience platform offered by Duve, as it is designed to help hoteliers cultivate long-term relationships with guests before, during, and after their stay. By allowing hotels to create tailored emails for each stage of the guest journey, Duve enables hoteliers to increase upsell revenues, strengthen relationships with guests, encourage positive reviews, and attract returning guests.
With Duve's advanced segmentation capabilities hoteliers can now
Personalize communication to each type of guest and drive loyalty through targeted post-stay campaigns.
Automated emails can be scheduled and segmented based on guest profile conditions, allowing hoteliers to leverage enriched profiles for both pre-arrival and post-stay efforts.
With fully customizable templates, including dynamic parameters that populate information collected from the hotel's Property Management System or from Duve throughout the guest journey, hoteliers can create tailored emails that meet their unique needs.
"Duve has successfully supported hoteliers in delivering exceptional guest experiences from pre-arrival through in-stay to checkout. We understand that nurturing these relationships doesn't stop once the guest checks out, and our latest advancement with email marketing capabilities is designed to help hoteliers continue to foster guest loyalty and enhance their brand reputation post-stay. This is just the beginning of many more capabilities to come, and we are thrilled to provide hoteliers with the tools they need to create more personalized and engaging guest experiences." -David Mezuman, Chief Executive Officer at Duve